Mandatory information signs (BLUE)
Choose our high quality mandatory information panels which meet strict market standards.
Our mandatory signs correspond precisely to the ISO and MFX standards in force, they also adapt perfectly to your needs. Depending on your desired location (public places, company premises…), choose the format, material and version of your mandatory sign that best meets your expectations.
It is now essential for any type of company to ensure that the risks are properly signalled and displayed in order to ensure the safety of their employees. Choose from our wide range of mandatory signs.
For more information on choosing the materials for the mandatory signs and the specifications of current ISO standards, please visit the page on instructions and signage on work premises.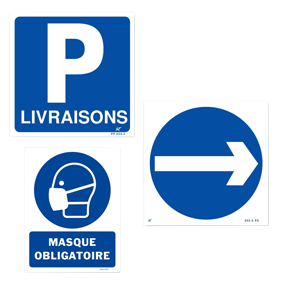 Showing 1-24 of 80 item(s)