Heavy Duty Asset Tags
Heavy Duty asset tags: Our heavy duty asset tags are made with aggressive, thick adhesive and strong polyester, they are declined in a full range of strong polyester asset labels.
Looking for top-of-the-range labels to identify all your property but your budget does not allow you to acquire them?
Discover our customized strong polyester asset label range.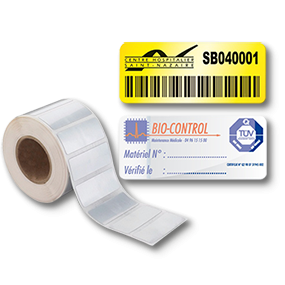 The heavy duty asset tag: a high-performance product
Our highly degressive rates and the numerous tests carried out in laboratory make these labels unique on the market in terms of efficiency and value for money. You can stick the barcode label onto any types of surface: they are universal. Invest in a successful product: the strong polyester asset label has a great long-term durablity, particularly thanks to the very powerful adhesive and the protective transparent polyester top layer. Remove them in case of end of validity: manual removal is difficult for each qr code asset tag but possible (use of label remover).
Do not hesitate to include the logo of your company on each double-adhesive label, the finish is impeccable and the brand image of your company will only be strengthened.