Custom ID Cards & Access Badges
Take advantage of our range of high quality professional badges
Identification of staff in a business by professional badge is now a standard and has a clear security benefit. The customized business badge must be easily identifiable to the naked eye secure (non-forgeable), display the photo of its holder, and be equipped with customizable digital information (barcode, magnetic tape, electronic chip, RFID chip). On the other hand, it is important to ensure your brand image when you contact your customers through professional and customizable badges.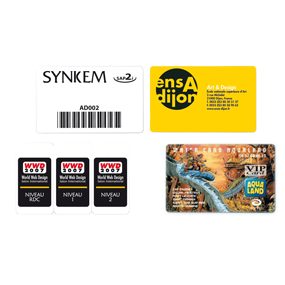 These are all the benefits of the company badges that we offer here
ultra-low price (some with self printing), superior digital quality and an exceptional finish: these personalized PVC badges and plastic badges are unfalsifiable and unalterable over time and their highly degressive rates allow you to make significant savings.
We also offer you the latest identification technology such as RFID cards, RFID badges. RFID technology is becoming more and more present in our daily lives and we suggest that you integrate it into your professional world, not forgetting the means of protection using the RFID protective holder.