Warranty Labels
Polyester anti-fraud label, VOID label, laser label, unfalsifiable and ultra-destructible label, discover the solutions we offer to fight your hardware theft and facilitate hardware authentication.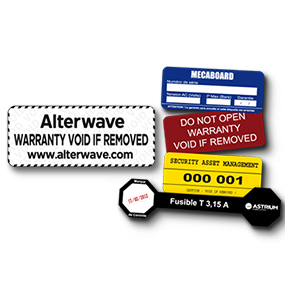 These professional labels guarantee the non removal of your property and media
Choose our range of anti-fraud labels: once placed on your surfaces they are completely untransferable and will reveal the VOID inscription on your support in case of tampering.
These labels also ensure the authenticity of your property
These VOID labels are a true guarantees, excelling through their versatility and can also be used for the safety of exhibits, medical packaging, as well as sealing CD-ROMs, computers, safes, envelopes and confidential files. Ensuring the authenticity of your property, include your company logos and colours or any other variable and fixed information on the customized anti-fraud label: you will convey a professional, security conscious image for your company.