Label printers
These thermal transfer printers allow you to print your technical labels yourself (barcode labels,…) according to your needs in a professional way, while obtaining a final label of a quality close to the one we offer ourselves.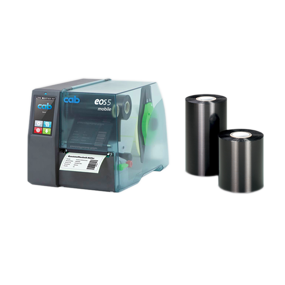 Thermal transfer printers presented here are adapted to all needs and activities.
They are ideal for inventories, referencing and identifying any type of property by placing a variable text, logo, numbering or barcode on the label. From the small portable thermal printer that can be taken to the where it is needed, to industrial performance printers, you can easily find the thermal transfer printer that suits you to print a barcode label for example.
Thermal transfer technology is optimal for the printing of barcodes, for example, on labels or thermal transfer ribbons. These thermal printers, unlike inkjet printers or laser printers, provide a better protection for label printing.
Thethermal transfer printers we offer you in various forms are SATO printers or printers from CAB, a renowned manufacturer and printer of labels.
Label printing will be simple and fast as can be. We can also provide you with label tape suitable for the thermal transfer printer you own.
If you would like further information on a thermal transfer printer and label printing do not hesitate to consult our guide: