Aluminium Asset Tags
Choose our range of aluminium asset tags. With impeccable finish and fashionable design, this range of aluminium asset tags, also known as barcode asset tags, will not only make your inventory visually excellent, but it will also provides the look of an exemplary professional metal asset tag.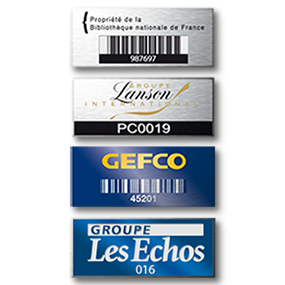 Aluminium Asset Tags : Identify durably all your property
Composed of a powerful 3M adhesive, the universal aluminium asset tag, also called barcode asset tag, is affixed to all types of surface with a rigidity that renders it practically inviolable. Indeed, each aluminium asset tag is impossible to manually pull off, thus providing a high level of security while remaining economical.
Barcode Asset Tags : enhance your company's image with this company metal label line.
Engraved plate: include your company logo and any other variable information on each aluminium asset tag in order to enhance your company's brand image: no paint is applied, the metal is dyed en masse and information laser-engraved on each aluminium asset tag.
Enjoy advantageous rates on the Aluminium Asset Tag.
Degressive rates and free samples available on each aluminium asset tag.
These barcode asset tags will offer you aesthetics and efficiency at low cost.
This professional aluminium asset tag may be both for external signage and for internal signage of ownership.
In addition, each aluminium ownership plate is fully customizable by laser (text, logo or barcode/numbering) and is completely indelible at one of the lowest prices on the market.
If you want your manufacturer label to be even more durable, do not hesitate to consult our article on "How to apply labels so that they last a long time".