Security Wristbands
Identification of people, beyond the modern aspects of belonging and playfulness, is essentially a security issue.
The inviolable Tyvek bracelets that we offer address these two aspects, emphasizing the security aspect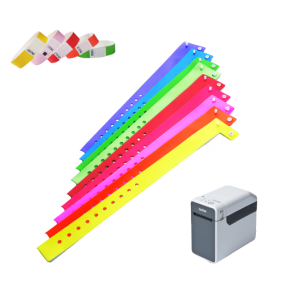 Find the control bracelet that corresponds to your needs through our wide range of identification bracelets
These secure vinyl or Tyvek bracelets cannot be passed on to another person and will be unusable at the end of normal use. Fitting the control bracelet is easy, taking just seconds, and each Tyvek bracelet can be customized with the name of the company (or event), individually numbered and named (numbers, barcode, QR codes) providing even higher security.
Discover all of our security bracelets
Two materials are available to you, inviolable soft vinyl bracelets (closed by plastic seal, more durable, long-lasting vinyl bracelet attachment, lasting several days), and inviolable Tyvek (light, economical, perfect for a one day event). All these ID security bracelets have an excellent finish (stringent quality controls). Test our samples yourself and enjoy the quality of our untearable bracelets!