Anti-theft Labels
The shrinkage figure was 1.4% of the turnover of French retail chains in 2012, a significant loss of Euro 5.3 billion. And you, are you well protected? Supplier to the largest chains (Carrefour, Boulanger, Fnac, Conforama, Décathlon…) SBE offers you its range of European-made anti-theft labels, which under rigorous testing have proven reliable in any situation.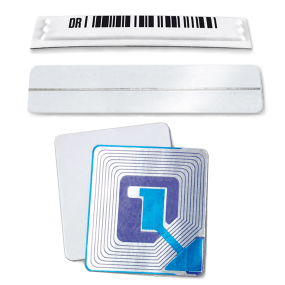 Protect your goods against theafts and shrinkages with our anti-theft labels
Genuine shop anti-theft equipment these anti-theft labels, with radio-frequency or magneto-acoustic technology are the most common and afford the highest level of detection on the market thanks, in particular, to powerful, high performance antennas. Customizable on request, we can include fixed information (logos, texts, promotions…) or variable information (barcode, price, serial No.) on all these anti-theft labels whose price is truly economical. We make high-tech protection and the fight against shrinkage possible and affordable in all your shops and stores.