Destructible Asset Labels
Destructible PVC asset labels, unfalsifiable labels, metal asset labels, discover our range of asset tags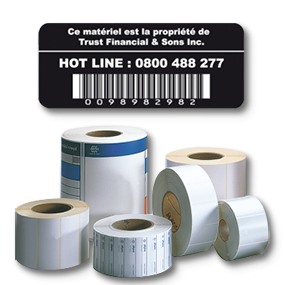 Self-destructible asset labels, indispensable for carrying out your inventories in the best way possible
Did you know that more than 5% of inventory asset labels disappear or are removed in the weeks following their application? This figure becomes more significant when your stock of assets is large: it can cause a significant loss of time and money. SBE has selected for you in this range the best asset tags on the market. Designed to carry out your inventories in the best possible manner, these unremovable asset labels deter any malicious person from pulling them off and ensure that the identification of the object in question is indeed the right one, allowing you to carry out a highly reliable inventory.
The different features of our self-destructible asset labels
We offer our blank asset labels, in rolls, or customizable to strengthen your company's brand image.
Metal asset labels are the essential element in identifying goods. This metal label will fulfil its tasks of identifying and protecting your goods.
The self-destructible asset labels we offer guarantee you a secure inventory at a very competitive rate
Do not hesitate to learn more about asset tags and asset management by clicking on the following link: