Security Papers
This safety paper provides you with a manufacturing process that will make your documents unfalsifiable. No counterfeiting will be possible on your documents thanks to security paper.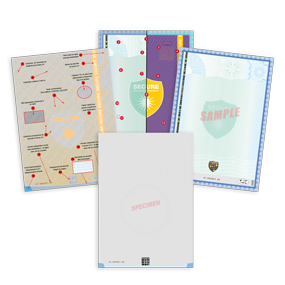 Security paper allows you to be sure that the official documents transmitted are authentic originals and have not been falsified.
We are nowadays obliged to use sensitive printed information printed on paper of a degree of importance whose origin or authenticity must be ensured. This range of security documents uses techniques close to that of bank notes and guarantees the authenticity of these documents. Available in different colours and printable on all paper printers on the market, this security paper proves to be the best solution for companies that want to increase the security level of their official documents at lower cost (highly degressive price reduction).