Security For Phones And Tablets
Tablet anti-theft device, iPad anti-theft device, anti-theft tag, anti-theft cable, SBE direct offers you various solutions to combat theft of mobile phones and tablets.
In 2014, thefts of telephones, tablets and iPads rose steeply. Therefore, it is important to opt for a tablet anti-theft or a mobile phone anti-theft solution to secure your tablets and mobile devices.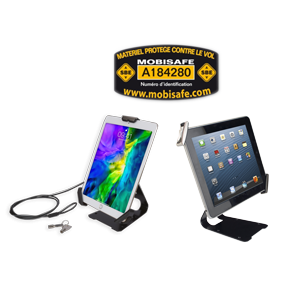 Discover our anti-theft tags
Theft can happen to anyone, at any time. Your business address book can end up in the wrong hands and cause many problems. Did you know there are anti-theft solutions for mobile phones such as anti-theft markings? SBE offers you a range of effective anti-theft devices for tablets and mobile phones.
Another complementary solution to our range of tablet and phone safety: a tablet anti-theft device to secure your iPad for example. Please note that our anti-theft devices for mobile phones and our anti-theft devices for tablets are available here at a highly degressive rate : using anti-theft marking at an affordable price is the answer.
For more information on tablet anti-theft devices do not hesitate to visit the following pages, linked to mobile phone & tablet security: