Machine Plates
Manufacturer ownership plates: aluminium machine nameplate, identification plate, metal label, discover the solutions we offer you to best identify your asset while meeting CE plate standards.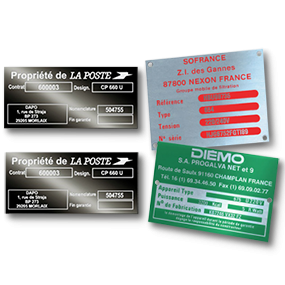 The identification plate is ideal for inventorying your equipment under difficult conditions
You work in the industrial environment and the identification of your machines is paramount, so what Aluminium Machine Nameplate should you choose? You want to inventory equipment under difficult conditions and you are looking for Identification Plates that are tough yet convey the brand image of your company. SBE meets your needs by offering this range of high performance Identification Plates at minimum cost. Our identification Plates correspond to the CE plate standards currently in force in France. This means that our range of CE plates corresponds to current European technical harmonization legislation.
The Aluminium Machine Nameplate: an extremely resistant manufacturer plate
Tested and put through the paces in our laboratories, these Identification Plates, a.k.a Machine Plates, will stand both extreme temperatures (from -40° to +400° for the most resistant) and aggressive chemical environments (solvents, oils, acids…). We also offer different customization (logos, texts, drawings, as well as variable information such as sequential numbering, date, series…), made by anodising, a powerful printing technique, on each metal label. The final printed result of the identification plate will be excellent.
If you want to know more about the standards and operation of the CE plate, you can consult the Wikipedia article on CE marking.