Hospital Wristbands
Secure identification of patients in hospitals is nowadays a key guarantee for both institutions and patients themselves. The hospital bracelet solutions we offer are classic and proven: pastel colour patient bracelets for adults and children in quality flexible vinyl (doubled), provided for daily use, even for long stays.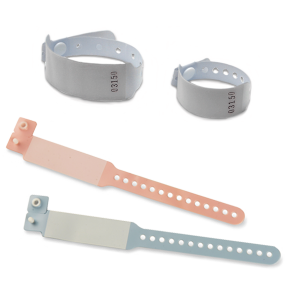 Hospital bracelet, handy, hygenic qnd custimizable
Resistant to water and common cleaning products, frequent handling, this bracelet designed for perfectly hygienic hospitals guarantees safe patient identification throughout their hospitalization while also improving comfort. Our patient bracelets can also be customized on behalf of the institution, with names (patient names) and individually numbered (numbers, barcodes, QR codes) providing even higher security. All these secure medical bracelets have an excellent finish (strict quality control). Test our samples yourself and enjoy the quality!