Badges & ID Card Holders
The purpose of identifying business staff or people in public places is to allow very quick naked eye identification of those authorised to be at a given place. This visibility is paramount and we have designed a range of badge protection with this idea in mind: a badge protector for maximum readability for people in situations where professional presentation must be maintained. Next, the goal of this badge protection is to protect PVC cards, so that company badges remain unchanged despite frequent daily handling and wearing.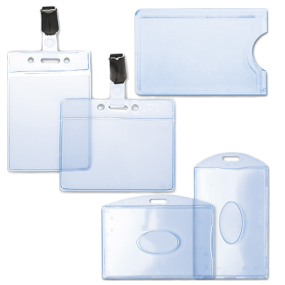 Discover our whole range of badge protectors and badge-holders
Badge protection is separated into two basic ranges: rigid badge-holders (best durability, maximum protection) and flexible badge holders (light, durable and slim), all ultra-transparent and anti-reflective, in all their sizes and appearances to suit your plastic card. In addition, this the plastic badge-holder and the rigid card-holder protect company badges from moisture and scratches, and also have an excellent glossy finish. SBE is adapting to latest technology and your needs by also offering RFID protection and rigid badge protection.