Barcode Scanners
SBE Direct presents its wide range of barcode readers. We recommend our high quality barcode scanners that will save you time and make your daily life easier.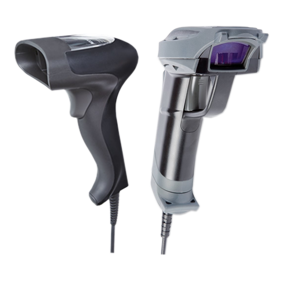 Our range of barcode and laser scanners can read many types of barcode.
Our barcode readers allow you to increase your productivity and performance. Our laser readers are at the cutting edge of technology, they can read all kinds of 1D and 2D barcode. Composed of various reading heads, these barcode readers can read simple codes in 1D, and also 2D.
Thanks to our barcode readers, you can optimize your stock management, freight logistics and scan any barcode label.
This range of barcode guns allows you to increase your productivity and performance regardless of your area of activity: inventory management, administration, medical, etc.
No matter if the label is damaged or on a bright surface, our barcode scanners successfully detect and scan all barcodes currently in use.
With a reading speed of up to 100 scans per second, our barcode readers are fast and efficient. Elegant, manageable and discreet, they are adapted to any work surface : shelf, storage box or warehouse stacks.
For inventories, SBE also has several models of the pocket barcode reader for mobile use, accessible via the barcode terminallink.