Laptop Security
Laptop anti-theft device, notebook anti-theft cable or strong cabinet for laptops, discover here our solutions against the theft of portable computers.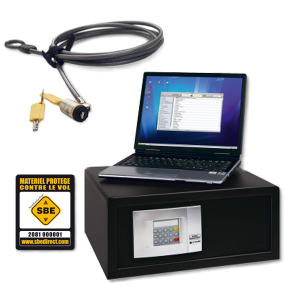 Laptop anti-theft devices are now part of the everyday essentials
The democratization of the personal computer, the laptop or the tablet combined with the miniaturization of mobile devices has increased the probability of loss and theft enormously. PCs, tablets and mobile phones are now among the most often stolen equipment. The theft of laptops is currently in sharp resurgence, due their higher value than tablets and their easy resale. A notebook anti-theft cable or any laptop anti-theft device is strongly recommended.
Notebook anti-theft cable: discover the many benefits
Thanks to our range of anti-theft devices for portable computers you will strongly protect yourself against PC theft. Tested and approved by many of our customers over many years, available quickly and at highly degressive rates: acquire a laptop anti-theft cable, a notebook anti-theft cable, a laptop strongbox (or mobile model) or a genuine computer anti-theft marking to protect your confidential data and equipment effectively. Here you will find numerous quality anti-theft systems for laptops, offering for the most part manageable pass key locks.
For more information on anti-theft cables for notebooks or other anti-theft devices for laptop computers, please visit our information pages: