Safe-Tech® Laptop Security Cable
De

15.00

€ à

25.00

€
Tax excluded
Tax excluded
Livraison : 3 à 6 semaines
Full steel termination lock

Tubular keys which cannot be duplicated

Push-to-lock system
Read more...
Safe-Tech laptop antitheft cable This antitheft cable for laptop is a very effective solution to protect your laptop, notebook and other electronic devices.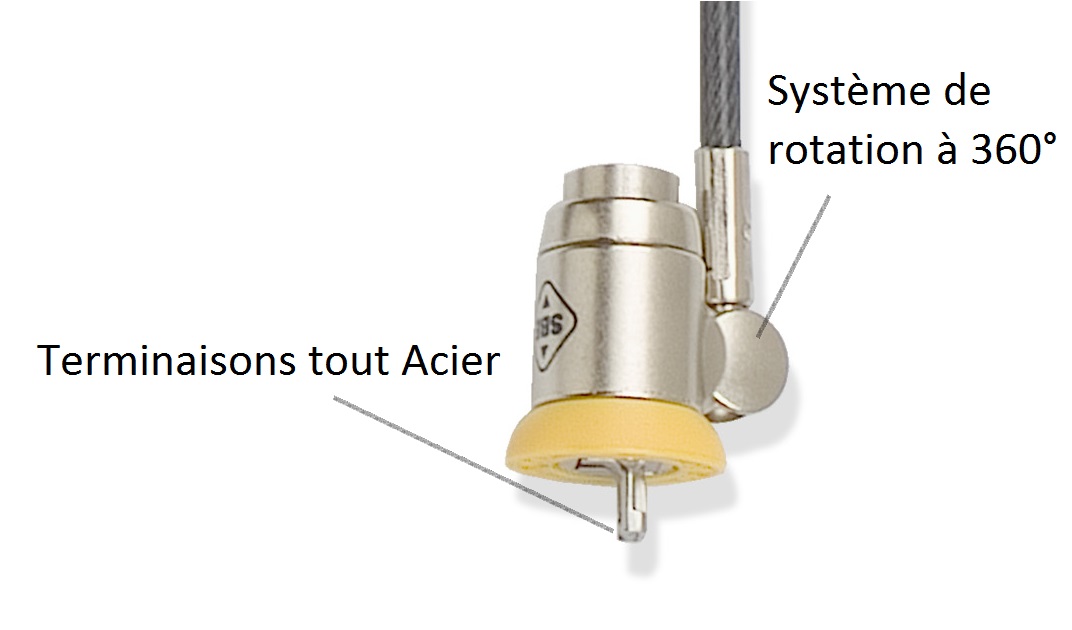 Secure your electronic devices using this high performance antitheft cable for laptops used with standard Kensington notches (standard notches present on laptops, keyboards, video projectors, etc...).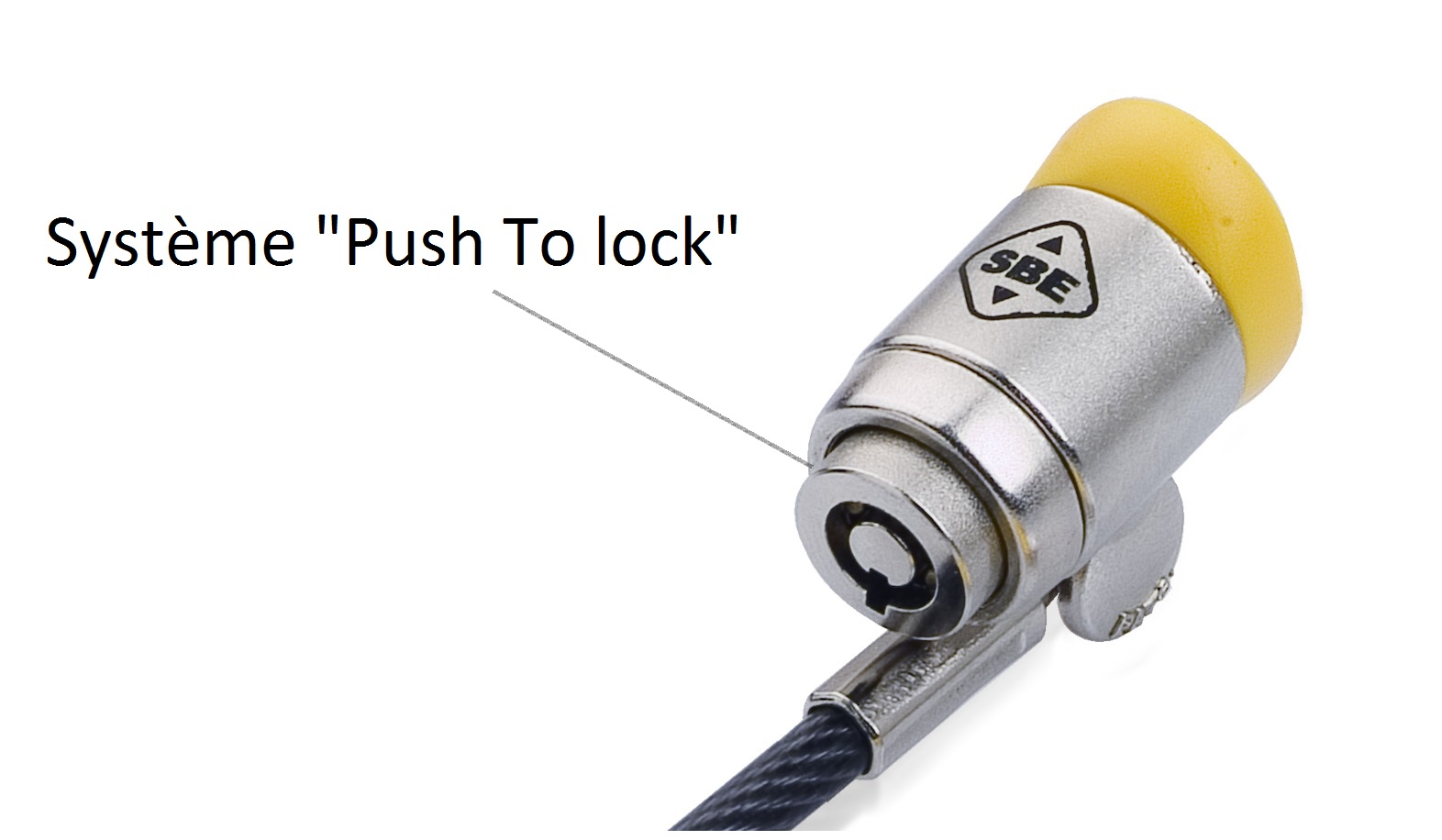 This elegant antitheft cable is opened using a small sized and potentially non-duplicable tubular key. A foam cushion enables a perfect hold of the security cable in the notch while avoiding any possible friction that may damage the hardware. The finish and design of this PC antitheft cable make it a unique product that provides good efficiency to protect the hardware.
A laptop antitheft cable with high technical performance
This high security antitheft cable is made of very highly resistant braided aircraft steel (Ø 3.5 mm, Ø total 4.4mm) covered with a black smoked vinyl sheath. Contrary to several cables available in the market, the locking system of this cable is designed in steel, which provides significant resistance to pulling. The locks of the antitheft cable have a "push-to-lock" system that enables locking with a single click (very useful when there is no place to turn the key).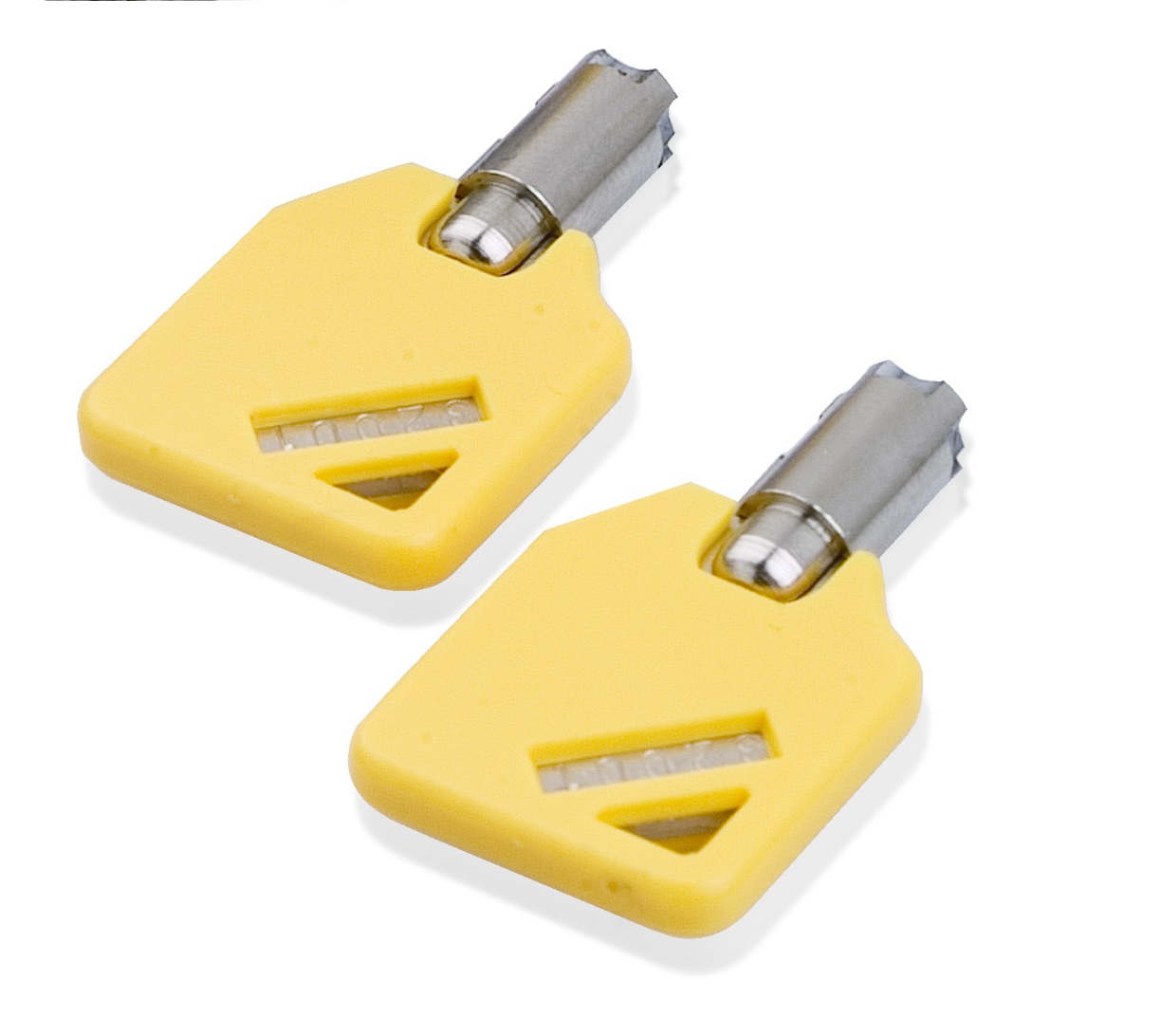 Finally, the provision of access keys (or master keys) can facilitate the administration of this antitheft cable. The master keys system is available from a purchase of 10 units or more. The master key opens all the cables, irrespective of keys specific to each cable. The keys are numbered, which facilitates the recognition of various keys.
For more information, refer this article on the difference between identical keys and master keys, in order to select the hardware security system which best meets your requirements.
SBE being the designer of these Safe-Tech cables, we offer you the possibility to customize them according to your needs:
From a certain number of cables with a delivery time of 6 weeks.
You can change the following criteria:
the colour for 3000 cables 
the length per 1000 cables 
the thickness (cable diameter) per 1000 cables 
the shape (spiral or unwound) per 1000 cables 
the addition of a head at the end for 1000 cables 
You can also add your logo with 1 or more colours.
Please contact us directly for a personalized study.
Data sheet
Unity

le câble

Packaging

à l'unité

Guarantee

1 an

Code catalogue

C082 D087 E820 F820

Security

Bon

Ø Câble

Ø 4.4mm

Matière

Acier

Weight

110 g

Longueur du câble

2 m
No customer reviews for the moment.
Tarifs dégressifs Ref. SEP-CAVP-CAST
| | | |
| --- | --- | --- |
| 1 | 21 € | - |
| 10 | 19 € | 25 € |
| 50 | 17 € | 22 € |
| 100 | 15 € | 20 € |
With this product you may need to use: