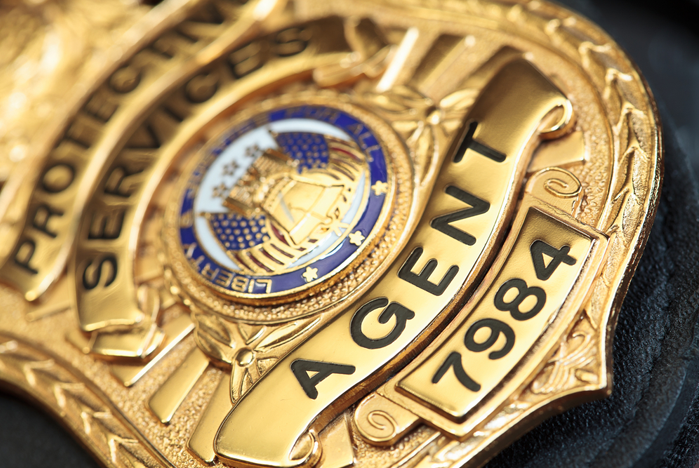 The Red List of Missing Material displays all equipment marked with an SBE anti-theft tag that has been reported missing, stolen or lost to us by its owner. Check here that the device you wish to purchase is in good standing or allow someone to recover his device by performing a civic act.
What does an SBE anti-theft label look like?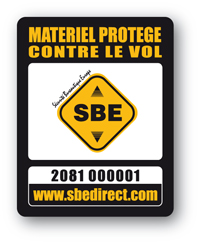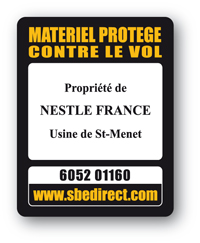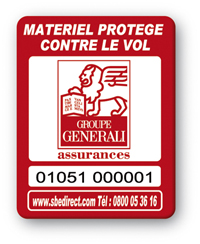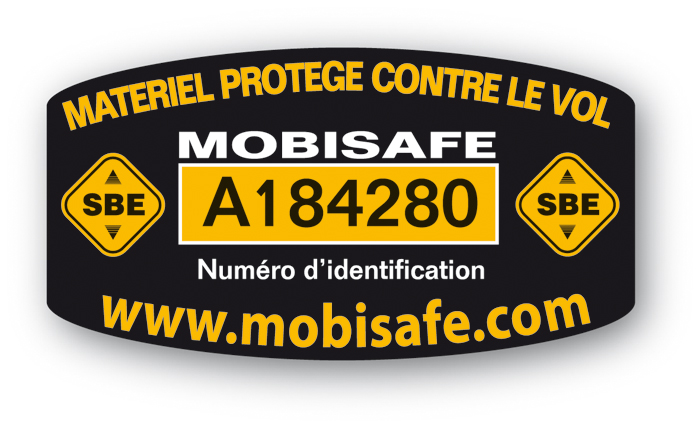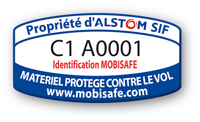 All SBE markings clearly display "EQUIPMENT PROTECTED AGAINST THEFT", a unique identification number, and the address of one of the SBE websites. Some markings are standard and display the SBE logo, others customized, display the owner's logo. These markings are glued in an inviolable and permanent way onto the protected devices, and any removal attempts leave an obvious and very visible sign of aggression on the device. It is by means of the unique identification number on each marking that we can return it to its owner.
For more information on the operating principles of these anti-theft markings, see "SBE Anti-theft File /Everything About the Anti-theft File…"
You found a device with an Anti-theft SBE Marking You would like to acquire a device bearing an SBE anti-theft marking. You just found a device with an SBE anti-theft marking. Are you in possession of an SBE anti-theft device?
How do I check that a marked device is bona fide?
Whatever the reason you are in contact with a device that bears an SBE anti-theft marking (the reason does concern us - we are not a police service), if this device displays such markings, such as those presented above, it means that it is protected against theft by its owner, who is probably looking for it. The first thing to do is look at the list below to see if the identification number of the marking is included.
If the identification number of the device appears on this list, it means that the device was declared stolen to the police and insurance company by its owner. The device is therefore being sought by the police, and any person in its possession may be suspected of theft, accessory to theft or receiving stolen goods at the first check carried out (border crossings, routine search, police investigation…). In this event, it must be understood that keeping such a device is unacceptable and that the only realistic solution is restoring it to its owner.
If the number is illegible or attempts have been made to remove the marking (only part of being visible), you can try for a search by characteristics of the device on the list (brands, models, serial No.). The best then is to contact us so that we can carry out further research with a view to restitution to its owner.
What if you have acquired (legally) a marked device?
In this case, the unique number of the Anti-theft Marking on this device is not included on this list.
In order to benefit from the services of SBE Anti-theft Marking, you must register with our services as a new owner.
The details of the former owner will always be kept.
To do this please contact us by mail or fax:
Your contact information (above all a contact to inform in the event of theft)
The number(s) of the associated Anti-Theft Markings
Information on the device concerned (brand, model, device type)
Date of purchase
Contact details of the former owner
Copy of the invoice.
How do I return a marked device to its owner?
Whatever the case may be, restitution is always an honest and civil act, and it may well extricate someone form a source of great discomfort. Even if the Anti-theft Marking is that of a major company - which could easily afford the loss of a device without any big problems - the reality is quite different. In fact, large companies are increasingly making their employees liable for the equipment entrusted to them, especially when it is property of value such as a laptop. The loss of such a device is charged in one way or another (financial, advancement…) to the employee who must take full responsibility for the employer, not counting the large amount of work in the computer that would be lost if the employee did not find his/her device. Returning the device is really an honest act, and it's always a physical person for whom you are doing this enormous service.
To return it, the quickest is to contact us, since of course we have the contact details of all the owners of all the devices marked. We will only ask you to tell us what you want to tell us. The important thing for us is to return the device to its owner. You can therefore remain anonymous if you wish. If you are in the Parisian region, you can even bring us the device in our Paris premises or send it to us at our expense, and if you want to remain discreet, no information will be requested. However, it is not unthinkable that the owner wishes to reward you, and after restitution we will be happy to contact you directly if you wish.
Red List of Missing Property
N° Marquage
Infos Matériel
01051000005
DELL
Latitude C600 PIII 128Mo
N° série: 8K3D40J

DELL LATITUDE C600 PIII 750 AU 31/08/2001
N°série: 8K3D40J
01051000006
DELL
Latitude C600 PIII 128Mo
N° série: 7K3D40J

DELL LATITUDE C600 PIII 750 au 31/08/2001
N°série: 7K3D40J


01051000014
DELL
LATITUDE C600 PIII 750Mhz 128Mo
N°série: HL3D40J

DELL LATITUDE C600 PIII 750 au 31/08/2001
N°serie: HL3D40J
01051000050
DELL
Latitude C600 PIII 1Ghz du 08/03/2002
N° série: 6DRVB0J

DELL Latitude C600 PIII 1Ghz LE 08/03/2002
N°série: 6DRVBOJ


01051000063
ORDINATEUR PORTABLE DELL
Modèle : LATITUDE C810 PIII 1.13 GHZ 512MO
N° DE SERIE : DDPRCOJ
05030546
VIDEO PROJECTEUR NEC
VT 440
SERIE 05000229B
05030562
Video-projecteur NEC
VT 440
N° serie: 05000759B
05030611
NECUT 740 G
N° OY0038771
05030682
VIDEO PROJECTEUR NEC
MODELE VT 440
SERIE 05000779B
0901 732
Portable NEC Versa M320 PIV 2 1800 256Mo 30Go WXP
N° de série : 300028250006
N° inventaire de la ville de Renne UC037538


2010000900303
HP 33449A
Imprimante
N°série: 3038J62579
2051024
PORTABLE NEC
VERSANOTE VXI
N° SERIE : BG44900004
2080002100146
COMPACT PORTABLE LTE 386
VALISE
SOURIS
TRANSFO
2100000500110
LASER WRITER II NT
2100000600102
LASER WRITER II F
2100000700112
LASER WRITER II F
2100000700220
MONITEUR 12" MONOCHROME
2100000900240
MACINTOSH II SI
2100000900411
SYQUEST
2100001000025
MACINTOSH II SI
2100001000115
LASER WRITER II F
2100001100071
MACINTOSH II SI
2100001200270
MACINTOSH CENTRIS 650
2100001200450
MACINTOSH II SI
2100001300145
MACINTOSH LC
2100001300280
MACINTOSH LC II
2100001300424
MACINTOSH LC
2100001400272
MACINTOSH CENTRIS 650
2100001400281
MONITEUR 12" MONOCHROME
2100001400506
PROLINEA 4/33
2100001500408
MACINTOSH II SI
2100001700482
MACINTOSH CI
2100001800249
MACINTOSH LC
2100001800528
MACINTOSH LC III
21010512
PORTABLE NEC P250
N° DE SERIE : 301272820007
21010938
Portable NEC P550
N° de série : 305325110008
21010969
Portable NEC P520
N° de série 304400740000
2120001300332
REPONDEUR TELEPHONIQUE PHILIPPS
2120001500334
REPONDEUR PHILIPPS
2120001700336
REPONDEUR TELEPHONIQUE PHILIPPS
2120001900491
UNITE CENTRALE MICRO
2120002600695
COMPAQ 486
30310094
COMPAQ TC1000 N° 5Y33 LBSZKO713
3060003500516
MACINTOSH CENTRIS 610
3060003500522
PROLIENA 4/33
3060003500525
MACINTOSH LC III
3060003500537
MACINTOSH LC III
3071075
3091028
DELL PORTABLE - n° UC044035
Modèle/ DELL Latitude D810 PIV M740 1.73 Ghz 6512 Mo
N° de série : 00VHV6V4H4P9
3091048
PORTABLE COMPAQ
NC 5120 PM740 1.74Ghz, 512 Mo , 60 Go , DVD , WXP PU885ET
n° de série : CNU513078T

PORTABLE COMPAQ
NC 8000 PM 1.6Ghz, 512 Mo , 40 Go , DVD , WXP DN889A
n° de série : CNU4080HTP
3091148
Portable Compaq nc 6120 PM740 1.73 Ghz, 512Mo, 40Go DVD, WXP PG826EA.
N° de série : CNU5141GNP
3091151
PORTABLE COMPAQ
NC 6120 PM740 1.7Ghz, 512 Mo , 60 Go , DVD , WXP PU826EA
n° de série : CNU513078T
3100004200277
ORDINATEUR PORTABLE
3100004401003
MACINTOSH QUADRA 650 CD
3100004401090
APPLE LW SELECT 360
3110004500207
IBM THPAD/750C
3110004500209
IBM TH.PAD/750C
3110004500301
TSH 4400SX
4A100505
DISQUE DUR EXTERNE
4A200650
PORTABLE
4A700322
PORTABLE APPLE
4A800611
TELECOPIEUR
5011-051
PC Portable IBM - Modèle18342pg
N° de série 99P5077
5110 1270
appel de la police de lyon
Mr dutang 04 78 78 43 25
5110 1988
appel de la police de Lyon Mr dutang 04 78 78 43 25
51100325
Portable zenith znoteflex
serie 5cvdann000348
51200295
toshiba portable 610cf
51200303
toshiba portable 610cf
6021-220
PC Portable DELL D510
N° de sérei construteur : CZGY92J
70510343
1 apple Ibook - G3/50064/12.1"/10GO/CD-RW/Eth/M56K/USB
N° UV1282WLCD
N° inventaire inrets : 01-1-0214
80310801
Non communiqué
803252202
Latitude CP M233XT 32MO 32GO -
SERIE MGX97
803252228
DELL
Latitude C600 PIII 750MHZ 128Mo
N° série: JJ3W20J

DELL
Latitude C600 PIII 750 du 08/03/2002
N°série: JJ3W200J
803252237
DELL
Latitude LS H500 GT 64MO
SERIE CJ4W10J
803252286
Latitude CPI A 366XT 64M -
N°série: LTOBW


803252289
Latitude CPI A 366XT 64M - SERIE ZXNBG
803252290
Latitude CPI A 366XT 64M - SERIE ZSZLC
803252301
Latitude CP M 233XT 32M0-32GO - SERIE Z42GQ
803252794
Portable DELL
Latitude CP 233MMX 64Mo
N° série: ZF7JD


95012994
Portable Samsung NV5700
DD de 20 GO _ 320 MO de RAM _ ecran TFT 12 pouces couleur
N° série: 281500000023
95013002
Station d'acceuil pour Samsung serie 5700
Lecteur DVDROM _ Lecteur de disquettes
N° série: SN


96030008
PORTABLE IBM THINKPAD 390E PII
SÉRIE 552723G
96030046
IBM THINKPAD 309E PII
SERIE 552725K
96030050
PORTABLE THINKPAD 390E PII
N° SERIE : 552066M
96030074
IBM THINKPAD 309E PII
SERIE 554233R8
96030092
PORTABLE NEC VERSA SXI PIII
N° série : V917100035
96030101
PORTABLE NEC VERSA SXI PIII
N° DE SERIE : V917100015
96030116
PORTABLE NEC VERSA SXI PIII
N° SERIE : V917100033
96030126
Portable NEC VERSA SXI
N° série: V917100020



96030155
Portable NEC VERSA SXI PIII
N° série: V874900021


96030236
Portable NEC L320 TFT
N° série CW84000016
96030254
Portable NEC L320 TFT 1000
N° DE SERIE : 2148687037
96030285
Portable NEC L320 TFT 1000
N° série : 2148687024
96030288
Portable NEC L320 TFT 1000
N° série XACCG35001
96030349
Portable NEC L320 TFT 1000
N° de série : 4095787052
96030350
Portable NEC L320 TFT 1000
N° de série : 4095787047
96030377
porte NEC L320
N° de série 4095787055
96030383
Portable NEC 1320 TFT 1000
N° de série : 4095787056
96030392
PORTABLE NEC VERSA L320
N° SERIE : 4095787063
96030395
PORTABLE NEC L320 TTF 1000
N° de série : 4095787026
C2338
PORTABLE DELL D620
N° SERIE C20DR2J
M000655
TOSHIBA Satellite 4070 CDS
CARTE PCMCIA