Adult hospital wristband
Tax excluded
Livraison : 3 à 6 semaines
Patient identification
Secure and permanent fastener
Highly resistant
Customizable
Suitable for use in hospitals
Read more...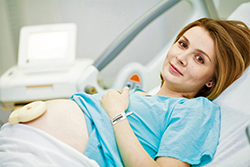 The adult hospital wristband perfectly meets the requirements of health establishments. Ideal for hospitals, clinics or retirement homes, this identification wristband allows health workers to identify their patients quickly and with certainty.
Identify patients correctly in the hospital environment
This hospital wristband has a large writing panel to record patient identification information such as their name, the department looking after them and the name of the establishment.
This information can be written directly on the writing panel with an indelible pen or on secure VOID labels, which you can print yourself using a thermal transfer printer. The VOID labels reveal any attempt at removal thanks to the breakable adhesive causing the word "VOID" to appear, both on the writing panel and on the label. The label is very difficult to remove in the first place, but on attempted removal it is rendered invalid and obsolete.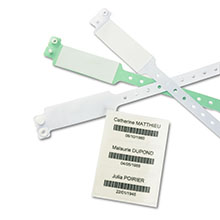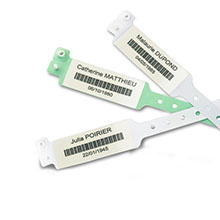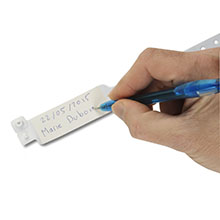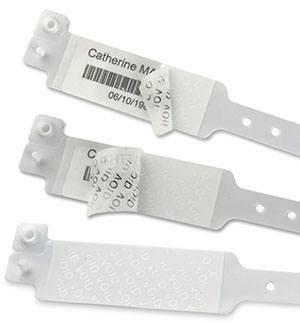 Choice of 4 colours for your identification wristbands: white, green, blue and pink to better identify your patients in the hospital environment according to your needs (zones, departments...). Ask us about other colours, available on request as from 20 boxes.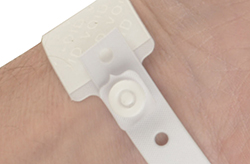 The hospital wristband with permanent closure secured by a tamper-proof snap clip
The tamper-proof closure using a snap clip is a highly resistant fastener that prevents wearers from removing their wristbands. In fact, the patient identification wristband cannot be removed once closed. Hence it cannot be transferred from one person to another. Thanks to its multiple closure points, this single-use medical wristband is suitable for all wrist sizes.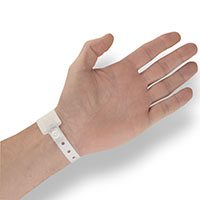 High level of resistance
The vinyl wristband stays intact after contact with water and washing, throughout the patient's stay in a medical centre.
In addition, this hospital wristband is pleasant for the patient to wear, since it is discreet and does not cause discomfort.
See also the hospital wristband for children offered by SBE.
Data sheet
Unity

les 100 bracelets

Packaging

par paquets de 100

Guarantee

1 an

Code catalogue

C225 D234 E044 F044

Security

Inviolable

Matière

Vinyle

Tenue

Souple

Colour

Blanc ou Vert

Dimensions

25/12 x 250mm

Closing

A clip sécurisé

Panneau d'écriture

65x25mm
No customer reviews for the moment.
With this product you may need to use: