Customized Aluminium Monitoring Plate
De

0.24

€ à

2.74

€
Tax excluded
Tax excluded
Livraison : 1 à 3 semaines
Complies with the standards specified by the Ministry of Agriculture
and Fisheries
resistant to phytosanitary products
Anodized aluminum
The most powerful adhesive
Read more...
Equip yourself with the best among regular monitoring labels, choose our ultra-flexible 3M aluminum 0.07 identification plate. You will get a very high quality aluminum inspection label with a high level of security, is economical and easy to use.
A high quality monitoring label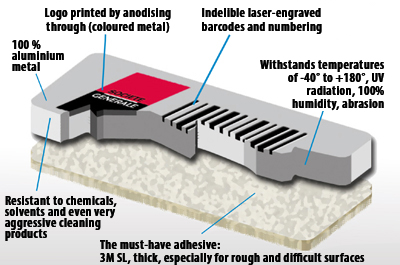 The fine quality of this metal inspection label (0.07mm) allows it to perfectly fit in even with the most curved surfaces. Furthermore, its 3M 300LSE extremely powerful adhesive meant for rough surfaces makes it almost impossible to remove (difficult to get a hold due to its fine finish) and the metal label breaks into fragments (which makes it an excellent anti-fraud label).

Its high quality black print is achieved by anodizing (the metal is thoroughly-colored). In Version A, the variable information (numbers and bar codes) are inserted by means of deep laser engraving, making the metal label indelible and unalterable.

If you do not know your numbering in advance choose Version B, this lets you manually create embossed intaglioed characters with the help of our products intended for mechanical engraving or by using a simple ball-point pen on each metal monitoring label.

This design ensures that the metal inspection label has the same attributes as the aluminum machine plate, it is thus exceptionally resistant to abrasion, solvents, high pressure cleaning, outdoor exposure and UV and phytosanitary chemicals .

Take advantage of our highly discounted bulk rates on these inspection metal labels by making an accurate estimate of your quantities.

Enhance your brand image by customizing your inspection label with your name. (contact us)
Plate format:
51 x 20 mm
Data sheet
Unity

la plaque

Packaging

par paquet de 50

Guarantee

1 an

Code catalogue

C053 D059 E106 F106

Fixation

Autocollant

Security

Aucune

Adhésif

Très puissant

Impression

Gravure

Résistance de l'impression

Optimum / Protégée

Résistance générale

Huiles / Solvants

Matière

Métal
No customer reviews for the moment.
Version A Ref. MAD-ALU-CPVA
| | |
| --- | --- |
| 500 | 2.74 € |
| 1000 | 1.57 € |
| 3000 | 0.93 € |
| 5000 | 0.68 € |
| 10000 | 0.6 € |
Version B Ref. MAD-ALU-CPVB
| | |
| --- | --- |
| 500 | 0.48 € |
| 1000 | 0.31 € |
| 3000 | 0.27 € |
| 5000 | 0.27 € |
| 10000 | 0.24 € |
With this product you may need to use: