Anti-theft marking
Rigorously protect your computer equipment for its lifespan against theft for less than £5 per workstation, thanks to our solutions of laptop and computer security tags such as anti-theft marking and anti-theft labels for the safety of your property.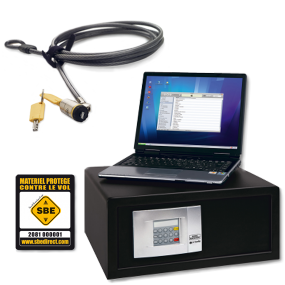 Your purchases of anti-theft markings with SBE Direct, security specialist:
SBE laptop and computer security tag is a patented system composed of a completely inviolable label leaving an indelible mark that will require the destruction of a part of the device to remove it, at low cost, and with the lifespan registration of the marked property on our Anti-theft File. Enjoy the benefits of this anti-theft tattoo with SBE Direct to secure your property and equipment.
Our company offers you several solutions such as markings and anti-theft labels to mark your property, convey a secure image and ensure accurate identification:
inviolable anti-theft plates to secure your computer equipment and easily find your property;
Mobisafe anti-theft plates for small size valuable devices: telephones, tablets etc
Our various anti-theft markings, such as the anti-theft tags, offer exceptional resistance to extreme conditions of abrasion, UV and frequent handling.
For more information on the Anti-theft File, please visit our information pages:
SBE Direct offers companies many solutions to secure their equipment, assets and people. Anti-theft markings are an integral part of our product range, just like anti-theft labels, and offer you all the commercial advantages for your purchases:
Degressive prices: the more you buy, the lower the unit price (up to -70%)
A secure payment: by credit card or PayPal service
A possibility to customize anti-theft labels, anti-theft pads and anti-theft markings.
Our various marking and identification devices, in addition to being tamper-proof and ultra-resistant, also allow you to benefit from our SBE anti-theft file. The latter allows you to retrieve your equipment in the event of theft and display lost items on a "red list". In addition, each of our anti-theft markings are considered as CE marking, i. e. they correspond to the European legislation in force.
Are you interested in our laptop and computer security tags? Contact us for more information.
Consult the Wikipedia article on CE marking to better understand its importance.