3M pre-printed adhesive flap heavy duty asset tag
De

678.00

€ à

2,990.00

€
Tax excluded
Tax excluded
Livraison : 3 à 6 semaines
You have not yet decided which information you would like to print on your label? Choose our 3M pre-printed adhesive flap heavy duty asset tag. This is the best flexible label for identifying IT equipment stock and/or movable goods, at an attractive price.
The double layer adhesive on this asset label makes it difficult to remove manually and gives it an excellent hold, even on rough surfaces. The heavy duty asset tag adapts well to all types of harsh environments, even outdoors.
A customized asset tag composed of several layers that deliver unmatched performance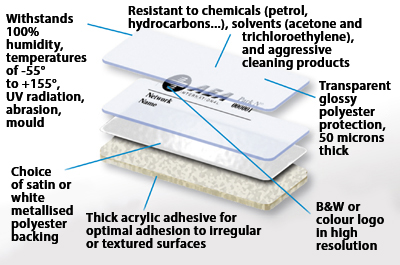 This asset tag consists of several layers that bind together during production, for a premium quality
finishedproduct:
-The double thickness high density acrylic adhesive ensures optimal adhesion on all types of surfaces, especially on rough surfaces. It also adapts to all types of harsh environments, even outdoors. Manual removal is very difficult.
-The white polyester surface of the label is the part on which all the pre-printed information is entered.
- The 50 microns thick, transparent, bright, polyester protective layer similar to the adhesive flap effectively protects all the information printed on the label surface. The information is legible and does not deteriorate over time.
This customized label thus delivers unmatched performance: the 3M protected double-adhesive polyester label with pre-printed adhesive flap withstands rough handling and is resistant to chemical products (gasoline, hydrocarbons...), solvents, cleaning products, humidity, temperatures ranging from -55° to +155°, UV radiation and to abrasion and mold.
Its special feature: its adhesive flap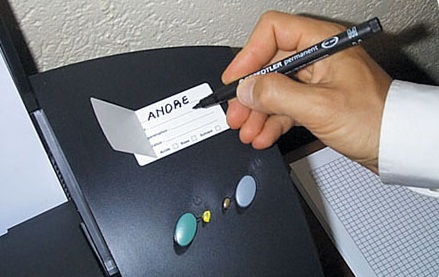 This label printed with your company's name is self-laminating. It has been perfected to enable you to manually insert your text, especially when you do not know your numbering in advance. Once you write your information using a permanent marker, all you have to do is pull back the transparent film to make it impervious and tamperproof.
A customized polyester label
Enhancethe brand image of your company by displaying your logo in 1, 2 or 3 colors on the customized label. It certifies the ownership of the labeled equipment. You will thus have a customized heavy duty asset tag of superior quality, owing to its fine print and compliance with the colors of your graphic charter. All the Pantone colors are possible.

For this customized label, we recommend a standard size of 70x30 mm. If you want a different size, please contact us.
Plan for plate costs with the first order.

Make an accurate estimate of the number of labels that you require, in order to make the most of our highly discounted bulk prices on this range of labels.

The announced delivery time is effective after approval for printing.
Data sheet
Unity

le rouleau de 1000

Packaging

Par rouleaux de 1000

Guarantee

1 an

Code catalogue

C016 D016 E113 F113

Fixation

Autocollant

Security

Aucune

Adhésif

Très puissant

Impression

Manuelle

Résistance de l'impression

Optimum / Protégée

Résistance générale

Abrasion

Matière

Synthétique

Format

70 x 30 mm
No customer reviews for the moment.
Tarifs dégressifs Ref. MAD-PBDA-AL
| | |
| --- | --- |
| 1 | 2990 € |
| 3 | 1429 € |
| 5 | 941 € |
| 10 | 678 € |
With this product you may need to use: