Iron-on blank fabric label in TTh rolls
176.50

€
Tax excluded
- 50%
Tax excluded
Livraison : 3 à 6 semaines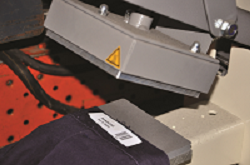 This fabric roll label can be glued to your clothes through hot bonding which enables its application on almost all fabrics (except delicate fabrics). Ideal for labeling work clothing, these labels are sold in rolls and can be printed by thermal transfer (discover our range of printers here).
The sticking of this fabric roll label is carried out under heat with a press. Resistance to washing is very important (95°) and clothes can be washed without altering the roll label holder.
Very easy to use, these textile labels sold in rolls will save you from sewing them on your clothes and will therefore save you a lot of time thanks to their second printing, their resistance is also remarkable under high temperature.
With which material to print an iron-on label and which format to choose?
Several sizes are available, customised agglutinating labels 340 microns thick are packaged in pre-cut or uncut rolls.
Our clothing label offer complies with current French legislation, but also with the standards in force in France. Be sure of the quality of our iron-on label and its long-lasting durability.
This label requires a specific thermal transfer printer and a specialized thermal ink ribbon.
Roll of 3000 labels.
Data sheet
Unity

le rouleau de 3000 étiquettes

Packaging

le rouleau

Impression

Transfert Thermique / Numérique

Résistance de l'impression

Bonne

Format

Largeur x hauteur de l'étiquette :41 x 16 mm

Diamètre total du rouleau

160 mm
No customer reviews for the moment.
With this product you may need to use: