Timestrip Temperature Indicator Inspection Label
De

95.00

€ à

4,026.00

€
Tax excluded
Tax excluded
Livraison : 3 à 6 semaines
A reliable, accurate and inexpensive label
Designed for cold chain monitoring
Wide choice of variations
Simple to use
Read more...
Traceability on the cold chain is essential in sectors involving perishable products. Companies, especially in the food and pharmaceutical sectors, are subject to regulation and must respect specific temperatures in terms of manufacturing, storage and refrigeration. To facilitate this monitoring demand, SBE offers a very innovative label with an irreversible temperature measurement.
A precise and cost-effective tool to monitor temperature over time
Cold chain management can be complex and involves dealing with many government guidelines and regulations. Compliance with the cold chain has been established to counteract the development of bacteria and therefore guarantee food preservation. Cold storage stops bacteria from growing but does not destroy it, which is why a simple increase in temperature can contaminate the product. It is a real challenge for food companies, but also pharmaceutical companies, to monitor the temperature of production of the product to distributors, even to end consumers.
SBE offers you a particularly innovative and cost-effective solution with this temperature label. This temperature indicator is a simple and effective alternative to expensive appliances commonly used to monitor temperature. It measures temperature increase and decrease, or both simultaneously and indicates how long temperatures lasted. This indicator will allow you to comply with all regulatory requirements, regardless of the country.
A very simple temperature indicator inspection label which gives an immediate reading
To activate it, just squeeze the button between your finger and thumb. A coloured line will appear to confirm it has been activated (or "ON" will appear in another white window). Each indicator contains a dye that is gradually released after activation. As the temperature increases or decreases the dye will migrate into the display window and indicate for how long the temperature has increased or decreased. Each product comes with clear instructions.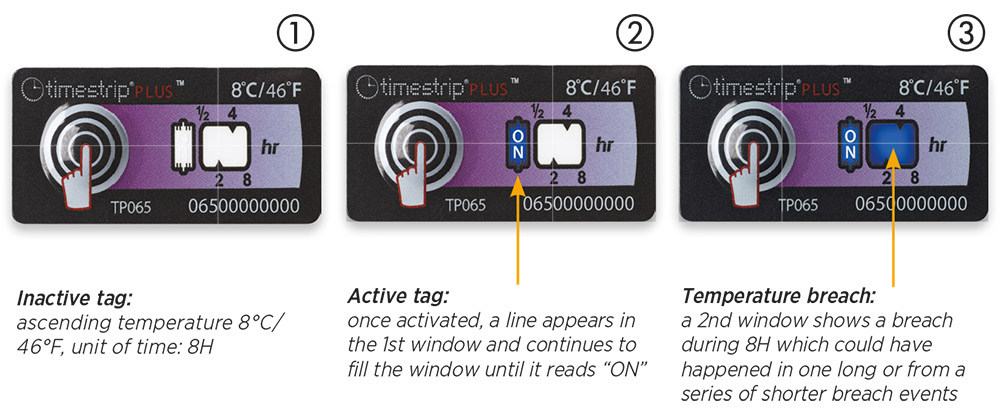 Traceability
Each temperature indicator is numbered sequentially to allow you to quickly identify and trace your products.
The temperature indicator inspection label range consists of 4 variations:
* (All of our references and specific variations can be found in the "Feature and technical support" tab, each one is sold per package of labels with different packaging).
Variation
Image
Measurement
Use

Rising temperature indicator

It measures when a predefined temperature has been exceeded ranging from

-20°C to 38°C (each label is associated with a temperature) and for how long (from 8 hours to 7 days).

Designed to monitor the cold chain for food products, pharmaceuticals, and control ambient temperature.

Decrease in temperature Indicator

It indicates whether temperatures have decreased (starting temperature: 0°C or 2°C).

Used to monitor the cold chain.

Food temperature indicator

It measures rising temperatures (from 3°C to 10°C) for up to 4 hours.

Specially designed for the food industry for transportation and storage.

Combined temperature indicator

---

First, it indicates whether the temperature exceeds 10°C and then whether it exceeds 34°C.

---

It indicates whether the temperature falls below a certain threshold (0°C or 2°C), and simultaneously whether the temperature exceeds 8°C, over an 8 hour period.

Specially designed for the transportation and storage of pharmaceutical products such as vaccinations.

A customisable temperature indicator
If the current references are not suitable for your needs, SBE suggests customising your indicator from 50,000 labels, by choosing your temperature threshold between -20°C and 38°C and your measurement of time between 5 minutes and 2 years. You can also add your logo or text onto each indicator.
The delivery time for customisation is 12 weeks. Only on quotation, contact us.
This temperature indicator monitoring label is sold inactive and has a lifespan of 2 years after the date of manufacture stated on the product. This label has no pre-packaging required. This product is compliant under ISO 9001:2008.
Data sheet
Unity

Le paquet d'étiquettes*

Packaging

Par boîte de 50 ou 100 étiquettes

Adhésif

Extra fort

Résistance générale

à l'humidité et aux températures extrêmes (de - 20° à +38°)
Download
No customer reviews for the moment.
Mesure -20°C / 8h Ref. MAD-TEMP-A20-8H
| | |
| --- | --- |
| 1 | 228 € |
| 5 | 218 € |
| 10 | 203 € |
Mesure -14°C / 24h Ref. MAD-TEMP-A14-24
| | |
| --- | --- |
| 1 | 228 € |
| 5 | 218 € |
| 10 | 203 € |
Mesure 0°C / 12h Ref. MAD-TEMP-A0-12
| | |
| --- | --- |
| 1 | 228 € |
| 5 | 218 € |
| 10 | 203 € |
Mesure 8°C / 8h Ref. MAD-TEMP-A8-8H
| | |
| --- | --- |
| 1 | 228 € |
| 5 | 218 € |
| 10 | 203 € |
Mesure 8°C / 48h Ref. MAD-TEMP-A8-48
| | |
| --- | --- |
| 1 | 114 € |
| 5 | 109 € |
| 10 | 102 € |
Mesure 10°C / 8h Ref. MAD-TEMP-A10-8H
| | |
| --- | --- |
| 1 | 228 € |
| 5 | 218 € |
| 10 | 203 € |
Mesure 10°C / 48h Ref. MAD-TEMP-A10-48
| | |
| --- | --- |
| 1 | 114 € |
| 5 | 109 € |
| 10 | 102 € |
Mesure 10°C / 7d Ref. MAD-TEMP-A10-7J
| | |
| --- | --- |
| 1 | 288 € |
| 5 | 275 € |
| 10 | 257 € |
Mesure 20°C / 2h Ref. MAD-TEMP-A20-2H
| | |
| --- | --- |
| 1 | 228 € |
| 5 | 218 € |
| 10 | 203 € |
Mesure 25°C / 12h Ref. MAD-TEMP-A25-12
| | |
| --- | --- |
| 1 | 228 € |
| 5 | 218 € |
| 10 | 203 € |
Mesure 30°C / 12h Ref. MAD-TEMP-A30-12
| | |
| --- | --- |
| 1 | 228 € |
| 5 | 218 € |
| 10 | 203 € |
Mesure 38°C / 8h Ref. MAD-TEMP-A38-8H
| | |
| --- | --- |
| 1 | 228 € |
| 5 | 218 € |
| 10 | 203 € |
Mesure 3°C 2/4h Ref. MAD-TEMP-AG3-4H
| | |
| --- | --- |
| 1 | 107 € |
| 5 | 102 € |
| 10 | 95 € |
Mesure 5°C 2/4h Ref. MAD-TEMP-AG5-4H
| | |
| --- | --- |
| 1 | 107 € |
| 5 | 102 € |
| 10 | 95 € |
Mesure 8°C 2/4h Ref. MAD-TEMP-AG8-4H
| | |
| --- | --- |
| 1 | 107 € |
| 5 | 102 € |
| 10 | 95 € |
Mesure 10°C 2/4h Ref. MAD-TEMP-AG10-4H
| | |
| --- | --- |
| 1 | 107 € |
| 5 | 102 € |
| 10 | 95 € |
Mesure 0°C Ref. MAD-TEMP-D-0
| | |
| --- | --- |
| 1 | 3731 € |
| 5 | - |
| 10 | - |
Mesure 2°C Ref. MAD-TEMP-D-2
| | |
| --- | --- |
| 1 | 3731 € |
| 5 | - |
| 10 | - |
Mesure asc. 10°C / asc. 34°C Ref. MAD-TEMP-C10-34
| | |
| --- | --- |
| 1 | 3723 € |
| 5 | - |
| 10 | - |
Mesure desc. 2°C / asc. 8°C / 8h Ref. MAD-TEMP-C2-88H
| | |
| --- | --- |
| 1 | 4026 € |
| 5 | - |
| 10 | - |
Mesure desc. 0°C / asc. 8C / 8°h Ref. MAD-TEMP-C0-88H
| | |
| --- | --- |
| 1 | 4026 € |
| 5 | - |
| 10 | - |
With this product you may need to use: