Timestrip Time Indicator Inspection Label
De

46.00

€ à

107.00

€
Tax excluded
Tax excluded
Livraison : 3 à 6 semaines
Inexpensive alternative
Reliable and accurate indicator
Adhesive Indicator
Read more...
Monitoring time is essential for all companies whatever the sector, to ensure the maintenance, warranty or replacement of parts or consumables. SBE offers you a new type of irreversible time measurement label especially innovative with an instant visual reminder.
A precise and reliable time indicator
The Timestrip time indicator inspection label is the best effective and cost-effective solution to measuring time elapsed. This time indicator is tamper proof and irreversible. It is very easy to use, simply press the button to activate the strip, the time indicator can then be glued directly to the product or packaging onits sticky side. It is always visible, offers a precise visual reminder to monitor the time elapsed (from 1 hour to 24 months). This label is suitable for all sectors, from medical to agri-food, and from consumer to industry.
This time indicator inspection label has been specially designed for:
• Products with a limited lifespan
• Components which need to be replaced at regular time intervals
• A training or maintenance programme which needs to be followed
• Where there is no means of identifying the time elapsed
A very simple time indicator monitoring label which gives an immediate reading
To activate it, simply squeeze the button between your finger and thumb (activation must be done at room temperature). A coloured line will appear to confirm it has been activated. Each indicator contains a dye that is gradually released after activation. Over time, the dye will migrate into the display window. Once the viewing window is full, it means that the time has expired.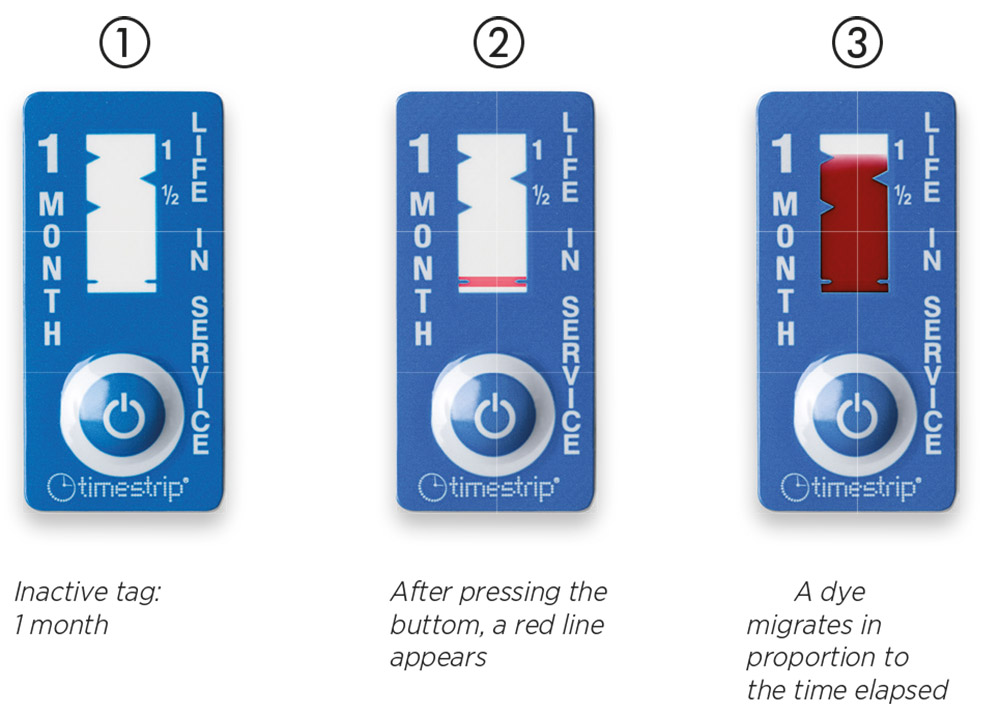 Timestrip time indicator inspection label : an effective marketing tool for customer loyalty
Are you a manufacturer or marketing perishable products over time? Offer your customers a practical accessory that will tell them when to renew their purchase. This time indicator may be used as a complementary product to a main product. Sold with a consumable product or a limited lifespan such as toothbrushes or aesthetic products, the indicator will bring real added value to the main product and allow the customer to make full use of the product.
A customisable time indicator inspection label
If the suggested references are not suitable for your needs, SBE suggests customizing your indicator from 100,000 labels, by choosing your unit of measurement between 5 minutes and 2 years. You can also add your logo to each indicator.
The delivery time for customisation is 12 weeks. Only on quotation, contact us.

This time indicator inspection label is sold inactive and has a lifespan of 3 years after the date of manufacture stated on the product. This label has no storage requirements. This product is compliant with ISO 9001:2008.
| Reference | Unit of measure/ Format of the indicator | Visual |
| --- | --- | --- |
| MAD-TPS-1H | 1 hour/ 19x32 mm | |
| MAD-TPS-12H | 12 hours / 19x40 mm | |
| MAD-TPS-7J | 7 days/ 19x40 mm | |
| MAD-TPS-1M | 1 month/ 19x40 mm | |
| MAD-TPS-3M | 3 months / 19x40 mm | |
| MAD-TPS-6M | 6 months/ 19x40 mm | |
| MAD-TPS-12M | 12 months/ 19x40 mm | |
| MAD-TPS-24M | 24 months/ 19x40 mm | |
Data sheet
Unity

Les 100 étiquettes

Packaging

Par paquet de 100

Adhésif

Extra fort

Résistance générale

à l'humidité, l'indicateur peut supporter des températures de -30° à +55° mais seulement pendant une courte durée. L'indicateur doit être utilisé à température ambiante (20C°-25C°)

Weight

0,04 Kg le paquet de 100 étiquettes
Download
No customer reviews for the moment.
Temps 1H Ref. MAD-TPS-1H
| | |
| --- | --- |
| 1 | 51 € |
| 5 | 49 € |
| 10 | 46 € |
Temps 12H Ref. MAD-TPS-12H
| | |
| --- | --- |
| 1 | 51 € |
| 5 | 49 € |
| 10 | 46 € |
Temps 7 jours Ref. MAD-TPS-7J
| | |
| --- | --- |
| 1 | 56 € |
| 5 | 53 € |
| 10 | 50 € |
Temps 1 mois Ref. MAD-TPS-1M
| | |
| --- | --- |
| 1 | 56 € |
| 5 | 53 € |
| 10 | 50 € |
Temps 3 mois Ref. MAD-TPS-3M
| | |
| --- | --- |
| 1 | 60 € |
| 5 | 58 € |
| 10 | 54 € |
Temps 6 mois Ref. MAD-TPS-6M
| | |
| --- | --- |
| 1 | 60 € |
| 5 | 58 € |
| 10 | 54 € |
Temps 12 mois Ref. MAD-TPS-12M
| | |
| --- | --- |
| 1 | 65 € |
| 5 | 62 € |
| 10 | 58 € |
Temps 24 mois Ref. MAD-TPS-24M
| | |
| --- | --- |
| 1 | 107 € |
| 5 | 102 € |
| 10 | 95 € |
With this product you may need to use: