3M Pre-Printed Protected Heavy Duty Asset Tag 3M Colored
De

235.00

€ à

1,039.00

€
Tax excluded
Tax excluded
Livraison : 3 à 6 semaines
Discover our 3m pre-printed protected heavy duty asset tag. This strong polyester asset label gives unmatched performance and is better than other standard labels available in the market. Its double thickness acrylic adhesive ensures exceptional hold on all types of rough surfaces, making it a formidable asset label owing to its remarkable strength and premium quality finish.
The barcode asset tag that is preferred by professionals.
In the three months following the completion of an inventory using the best in class labels, about 10% of the stock lose their labels. Following numerous tests conducted in the field, this high performance of the heavy duty barcode asset tag will considerably degressive this number.
Equipped with a 3M double adhesive high density acrylic, this strong polyester asset label is preferred by inventory professionals to other more expensive options and is the best among all flexible labels currently in the market. It enables you to easily identify not only your IT stock, furniture, medical and laboratory equipment, kitchen equipment but also your industrial equipment. This barcode label is also resistant to aggressive environments, even outdoors, against harsh weather conditions and sunlight.
Its double-adhesive also provides excellent adhesion on any kind of rough surface, It is thus very difficult to manually remove this polyester barcode label.
Moreover, all the information (logos, numbering) is protected by a thick layer (50 microns) of bright transparent polyester, that provides an excellent finish to the barcode label and enhances the brand image of your company. Hence, the identification of your goods is accurate, they are completely authenticated and exceptionally durable.
The heavy duty asset tag for greater efficiency
This range of high tech heavy duty barcode asset tag is more efficient than the standard polyester labels that are currently available in the market.
Withstands rough handling and is resistant to chemical products (gasoline, hydrocarbons...), solvents, cleaning products, this strong double-adhesive polyester asset label is also resistant to humidity, temperatures ranging from -55° to +155°, UV radiation and to abrasion and mold.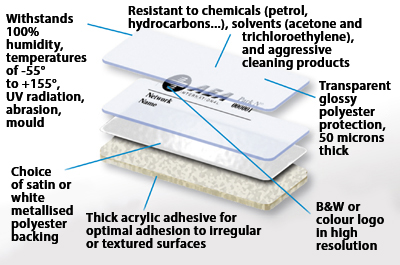 The different layers will bind together during assembly thus giving a premium quality finished product:
- The First layer is an acrylic adhesive that is two times thicker providing optimal adhesion on all irregular or structured surfaces.
- the second layer is a metallic satin polyester surface (more elegant) or white (high contrast), highlighting the information and logos in high resolution that will be printed on this surface.
- Finally the last layer is a bright, transparent and thick polyester protective layer that perfectly protects the information and logos printed on the label.
A strong polyester asset label customized at will.
This custom barcode asset tag (print example) will be ideal if you require large quantities, do not hesitate to enhance the brand image of your company and certify the ownership of the labeled material by displaying all your fixed or variable information on this barcode label in 1, 2 or 3 colors (logos, texts, numberings and/or barcodes...) The label print quality is as fine as that of a 1200 dpi Laser printer and its precision is similar to silk-screen printing, and in compliance with the colors of your graphic charter. All the Pantone colors are available for each customized label. Reprinting your sequential numbering is an option. You will thus get a customized barcode label of superior quality.
Do not hesitate to make an accurate estimate of your quantities and take advantage of our highly discounted bulk rates by ordering a higher volume, you will make great savings.
The manufacturing of your custom polyester asset label is swift and executed within 10 days after press proof approval.
Plate costs are to be expected for orders starting from 1000 labels for the first order, this barcode asset tag is also available in white with a bright protective film (recommended for printing barcodes for laser reading).
If you wish to know more about sequential numbering of barcodes or QR Codes, please refer to our article "For all information on sequential numbering".
| Référence | Format | Fond |
| --- | --- | --- |
| MAD-PBPDA1-NB-FM | 40x15 mm | Metallized |
| MAD-PBPDA1-NB-FB | 40x15 mm | White |
| MAD-PBPDA2-NB-FM | 50x20 mm | Metallized |
| MAD-PBPDA2-NB-FB | 50x20 mm | White |
| MAD-PBPDA3-NB-FM | 60x25 mm | Metallized |
| MAD-PBPDA3-NB-FB | 60x25 mm | White |
Data sheet
Unity

le rouleau de 1000

Packaging

Par rouleaux de 1000

Guarantee

1 an

Code catalogue

A009 B009 C017 D017 E114 F114

Fixation

Autocollant

Security

Aucune

Adhésif

Très puissant

Impression

Transfert Thermique / Numérique

Résistance de l'impression

Optimum / Protégée

Résistance générale

Abrasion

Matière

Synthétique
No customer reviews for the moment.
Format 40x15mm Ref. MAD-PBPDA1-CO
| | |
| --- | --- |
| 1 | 951 € |
| 3 | 434 € |
| 5 | 329 € |
| 10 | 235 € |
Format 50x20mm Ref. MAD-PBPDA2-CO
| | |
| --- | --- |
| 1 | 1004 € |
| 3 | 484 € |
| 5 | 378 € |
| 10 | 281 € |
Format 60x25mm Ref. MAD-PBPDA3-CO
| | |
| --- | --- |
| 1 | 1039 € |
| 3 | 515 € |
| 5 | 409 € |
| 10 | 309 € |
With this product you may need to use: