Tamper Proof Envelope
De

59.00

€ à

67.00

€
Tax excluded
Tax excluded
Livraison : 3 à 6 semaines
New format : 101 x 140 mm

VOID Security adhesive

Security numbering and barcode

Tear-resistant envelope
Read more...
Waterproof and tear-proof, the VOID high security envelope for keys has been designed to prohibit the use of keys that can be used to access sensitive objects or places such as safes, storage cabinets, archiving rooms, etc.

Restrict access to your valuables or letters with the high security envelope.
With its high-performance VOID security adhesive, this high-security envelope will safeguard internal access to your most important keys, and you will no longer need to constantly carry them with you. Flexible and practical, it will easily slip into a drawer or cupboard once the keys have been placed inside.
If someone tries to open the pouch, the theft will be automatically evident due to the " OPENED VOID " message displayed.
A perfect solution for activities that need several keys.
This security pouch is ideal for all companies whose activities require a certain number of keys (car garages, hotels, guest rooms, hospitals, etc.) or with storage areas intended for the packaging of money or for restaurant tickets, lunch vouchers, or gift vouchers. It is therefore more practical than a sealed envelope.
This sealed envelope is also perfectly suited to all stores using a cash drawer whose access is limited to only one or few people.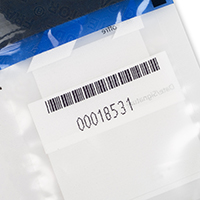 Provide optimum safety for sensitive objects with the high-security envelope
The VOID security pouch for keys will perfectly ensure its safety, thanks to:
- Tamperproof VOID adhesive: it is not possible to remove the adhesive without tearing the pouch. At the slightest tampering attempt, the message "OPENED VOID" will appear, thus making the opening attempt evident.
- Traceability barcode : it enables to trace the cover while limiting the risks of loss or theft.
- Sequential numbering: in addition to the traceability barcode, the numbering makes it possible to reference the pouch and protects it from the risks of being misplaced.
NEW: The VOID Secure Key Pouch is now available in 101 x 140 mm format. You can secure your large format keys or even your keychains. 
Data sheet
Unity

le lot de 50

Packaging

à l'unité

Code catalogue

C154 D164 E826 F826

Security

Excellent

Adhésif

Burglar-proof security adhesive

Matière

Polyéthylène épais 80 microns

Format

60 x 100 mm ou 101 x 140 mm
No customer reviews for the moment.
Format 60 x 100 mm Ref. SEP-SED-PSC
| | |
| --- | --- |
| 1 | 62 € |
| 5 | 61 € |
| 10 | 59 € |
Format 101 x 140 mm Ref. SEP-SED-PSC2
| | |
| --- | --- |
| 1 | 67 € |
| 5 | 65 € |
| 10 | 63 € |