Customized Security Pouch for Forensic Evidence
Tax excluded
Livraison : 3 à 6 semaines
Waterproof and tear-proof, the customized security pouch for forensic evidence has been designed to protect and prohibit access to all types of materials, items and documents that can be used as evidence in a legal framework.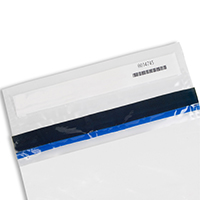 Your seals under high security
With the help of its tamper-proof and high performance VOID Security adhesive, this pouch enables the sealing of all the evidence and samples found, without using a wax seal.
Flexible and convenient, it easily slides into a secure drawer or storage cabinet once the item has been placed inside.

If someone tries to open the high security envelope, the tampering will be automatically visible due to the "OPENED VOID" message
The sealed envelope: the convenient and ideal solution for legal institutions
This high security envelope is ideal for all entities related to justice and defense such as police brigade, gendarmerie, medical-legal institutes, penitentiary centers, etc.
It is also perfect for all activities that involve the handling of small sensitive objects with limited access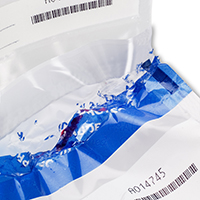 Opt for optimum security with high security envelope
The security pouch for judicial evidences perfectly ensures its task, thanks to:
A tamperproof VOID adhesive: due to this, the opening of the adhesive without tearing off the pouch is not possible. At the slightest tampering attempt, the message "OPENED VOID" will appear, thus making the opening attempt evident.
Mixed side seals: enables to secure the bag as much as possible and makes it much more difficult to re-seal the cover after a malicious act.


Customized your high security envelope
For efficiency and security, this customized high security envelope for judicial evidence is mandatorily marketed with a single color customization option (this product is not in stock).

You can then print a logo, text, fields to be filled in with a pen, sections to be filled in with a pencil, and so on.
The price displayed includes 1 color customized printing.

In addition, you can obtain a quote for several other options:

The printing of a traceability barcode
: it enables to trace the sealed envelope by limiting the risks of loss or theft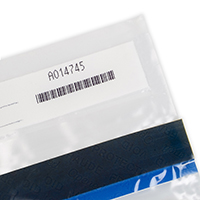 .
Sequential numbering printing
: in addition to the traceability barcode, numbering makes it possible to reference the pouch and to protect it from the risks of being misplaced.
The size
. All requests are possible, from the smallest (60x100mm) to the largest (700x700mm) cover.
The seal type
. You can select from:
Mixed seal with security message. Wide but not very thick, this seal will allow you to write the safety message of your choice, making it impossible to cut and re-seal the sides of the envelope.
Sealing by heat-sealing process Flat and wide, this type of seal has a very smooth and clean appearance.
- Fine seal Very fine and clean, this seal has a discreet and aesthetic appearance. Its fineness enables you to maximize the usable space in the envelope.
The pre-cut opening
. Simplify the opening of the high security envelope for the receiver by inserting a precut to the envelope.
Bottom gusset
. If you plan to transport large items in the envelope, choose a bottom gusset which will increase its capacity.
The security tag
. To maximize the safety and security of your shipments, you can supplement your envelope for declared value with a security tag, Prooftag, authentication system via a standard software. Contact us for more information.
Data sheet
Unity

le paquet de 1000

Packaging

le paquet de 1000

Guarantee

1 an

Code catalogue

C155 D165 E830 F830

Security

Excellent

Adhésif

Acrylique haute performance

Matière

Polyéthylène 70 microns

Format

180 x 260 mm
No customer reviews for the moment.