Descriptive Adhesive Sticker
De

11.00

€ à

616.00

€
Tax excluded
Tax excluded
Livraison : 3 à 6 semaines
Complete customization freedom

High Resolution digital printing

Insertion of barcodes/variable QR codes
Multiple shapes and sizes
Protected vinyl or polyester materials
Read more...
Customized high quality stickers intended for any type of surface and any type of use. You can customized your stickers to infinity, without any obstruction to your creativity!
1. SELECT THE FORMAT OF YOUR PROFESSIONAL STICKER
Round or square formats

Rectangular or oval formats

37 x 37 mm - 52 x 52 mm

74 x 74 mm - 100 x 100 mm

300 x 300 mm (polyester 290x290mm maximum)

52 x 37 mm - 74 x 52 mm

105 x 37 mm - 105 x 74 mm

48 x 52 mm - 210 x 74 mm

200 x 100 mm - 210 x148 mm
2. SELECT THE MATERIAL OF YOUR PROFESSIONAL STICKER
Protected Vinyl material - Very high resistance sticker

The vinyl sticker ensures a high resistance to weather and exposure to UV rays, water, weather and even chemicals. This is the right choice for stickers intended for outdoor use. The proof of quality is instantly demonstrated to the touch. It is a vinyl sticker said to "last forever".

Polyester Material - The inevitable standard sticker

Polyester material ensures the best quality-price ratio. It is the ideal sticker for your interiors and for daily use. Digital printing on this type of material gives a very clean result and is of high resolution. It is also highly appreciated in the event management sector and often preferred for orders in large quantities.
3. SELECT THE SHAPE AND CUT OF YOUR PROFESSIONAL STICKER
Give your stickers any shape you desire!

You can select the shape of your sticker. The most detailed cut will have a perfect result. Peel-off is facilitated and meticulously designed even on fragile areas and small details.

However, we advise you to choose vinyl material for the very complex formats, it will ensure more resistance and will facilitate peel-off .

4. CUSTOMIZED AND DESIGN YOUR PROFESSIONAL STICKER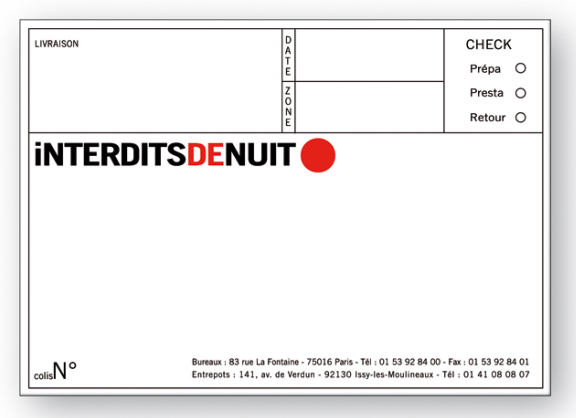 Create your product yourself. You can execute all the prints you desire, your creativity will not be limited in any way! This customization enables you to reinforce the brand image of your company.
You can thus give a personal touch to your sticker. We can also print bar codes and variable QR codes without any increase in cost.
Executed in all colors, graphics and possible illustrations, printing is done using the digital technique, ensuring a high resolution result of the product. We can also print bar codes and QR variable codes without any increase in cost .
Data sheet
Unity

Le paquet de 100

Packaging

par paquets de 100

Guarantee

1 an

Code catalogue

D064 E933 F933

Fixation

Autocollant puissant

Impression

Numérique

Matière

Polyester ou Vinyle protégé

Format

Standards ou sur devis
No customer reviews for the moment.
Format 105 x 74 mm Ref. MIS-SS-V-174
| | | |
| --- | --- | --- |
| 1 | 159 € | 195 € |
| 5 | 102 € | 55 € |
| 10 | 82 € | 36 € |
Format 100 x 100 mm Ref. MIS-SS-V-100
| | | |
| --- | --- | --- |
| 1 | 174 € | 146 € |
| 5 | 88 € | 59 € |
| 10 | 76 € | 51 € |
Format 74 x 52 mm Ref. MIS-SS-V-75
| | | |
| --- | --- | --- |
| 1 | 95 € | 70 € |
| 5 | 63 € | 32 € |
| 10 | 50 € | 24 € |
Format 37 x 37 mm Ref. MIS-SS-P-37
| | | |
| --- | --- | --- |
| 1 | 28 € | 45 € |
| 5 | 17 € | 34 € |
| 10 | 11 € | 29 € |
Format 52 x 52 mm Ref. MIS-SS-V-52
| | | |
| --- | --- | --- |
| 1 | 72 € | 50 € |
| 5 | 50 € | 28 € |
| 10 | 40 € | 20 € |
Format 74 x 74 mm Ref. MIS-SS-V-74
| | | |
| --- | --- | --- |
| 1 | 117 € | 89 € |
| 5 | 72 € | 39 € |
| 10 | 61 € | 29 € |
Format 52 x 37 mm Ref. MIS-SS-V-53
| | | |
| --- | --- | --- |
| 1 | 56 € | 39 € |
| 5 | 39 € | 25 € |
| 10 | 29 € | 16 € |
Format 105 x 37 mm Ref. MIS-SS-V-137
| | | |
| --- | --- | --- |
| 1 | 99 € | 82 € |
| 5 | 62 € | 33 € |
| 10 | 52 € | 25 € |
Format 148 x 52 mm Ref. MIS-SS-V-152
| | | |
| --- | --- | --- |
| 1 | 170 € | 170 € |
| 5 | 100 € | 63 € |
| 10 | 84 € | 39 € |
Format 210 x 74 mm Ref. MIS-SS-V-274
| | | |
| --- | --- | --- |
| 1 | 316 € | 337 € |
| 5 | 157 € | 126 € |
| 10 | 148 € | 78 € |
Format 200 x 100 mm Ref. MIS-SS-V-210
| | | |
| --- | --- | --- |
| 1 | 229 € | 194 € |
| 5 | 139 € | 102 € |
| 10 | 127 € | 93 € |
Format 210 x 148 mm Ref. MIS-SS-V-214
| | | |
| --- | --- | --- |
| 1 | 307 € | 248 € |
| 5 | 207 € | 158 € |
| 10 | 194 € | 143 € |
Format 300 x 300 mm Ref. MIS-SS-V-300
| | | |
| --- | --- | --- |
| 1 | 616 € | 491 € |
| 5 | 497 € | 349 € |
| 10 | 485 € | 316 € |