OPR3201 ultra-light handheld laser reader + stand
Tax excluded
Livraison : 3 à 6 semaines
Ultra-light
Reliable and ultra-rapid reading
Mac and PC USB connection
Highly resistant to impacts
Recognises most current barcodes
Class A and EC compliant
Read more...
The OPR 3201 ultra-light handheld laser reader is a barcode gun with a flexible stand for extreme manoeuvrability
A handheld laser device for simple and fast barcode reading.
Able to perform 100 scans per second, this barcode gun has a powerful reading capacity. Its reading head offers high quality, able to read even the most damaged and/or badly printed barcodes. It is ideal for use at supermarket check-outs, for example.
Different barcode reading modes are available with this barcode gun
This ultra-light handheld laser reader has a manual mode allowing the user to scan labels by pulling the trigger. But it can also be set up in automatic mode using the flexible stand included in the kit. The detection system included in the barcode reader allows for reading of the barcode immediately on presentation. The laser of your OPR 3201 handheld barcode reader can scan all types of code at a distance ranging from 3 to 50 cm.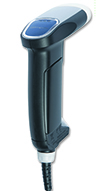 This handheld laser barcode reader has a stand, a slim body and a pleasant grip
Having a compact format (56 x 149 x 109 mm) and light weight (80g), this barcode terminal is manoeuvrable and quick, ergonomic and discreet in small workspaces. Highly robust, this barcode gun ensures reliable performance in everyday use.
Different connection methods are available for this ultra-light handheld laser reader
Its cable is available in USB, Wedge and RS232C versions. The handheld laser reader can easily be associated with a computer as a Plug and Play peripheral, using its USB-A port. The model is available in white or black.
Data sheet
Unity

le pistolet

Packaging

à l'unité

Guarantee

1 an

Code catalogue

A042 B042 C069 D074 E011 F011

Colour

Noir / Blanc

Weight

80 gr (le lecteur) + 385 gr (Stand)

Dimensions

56 x 149 x 109 mm

Vitesse de lecture

100 scan/seconde

Distance de lecture

500 mm selon la symbologie

Température de fonctionnement

- 5°C à 50°C

Température de stockage

- 20 °C à 60 °C
Download
No customer reviews for the moment.
With this product you may need to use: