Biohazard Tamper Proof Envelope.
De

26.00

€ à

31.00

€
Tax excluded
Tax excluded
Livraison : 3 à 6 semaines
Waterproof and airtight

Kangaroo pocket for document insertion

Numbering and barcodes for traceability
Read more...
The Biohazard pouch for medical specimens can secure all your medical samples and is compliant with the transport regulations for hazardous products or contaminants. Waterproof and traceable, the sealed envelope will prevent any risk of infection in case of leakage of the transported samples.
Transfer your medical samples with complete security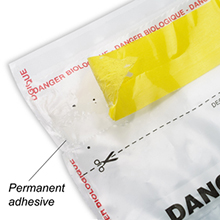 *This extremely resistant transport pouch with permanent closure through a self-adhesive flap ensures 100% waterproofing which prevents any contamination of samples or the exterior, in case of shock or leakage.


It is compatible with the P650and UN3373 standards, causes no harm to the environment, and ensures reinforced security and hygiene.

Using a barcode and unique sequential numbering, this Biohazard pouch for medical samples will limit the risk of loss, theft or malicious acts, and can be easily opened at its destination through its easy opening system with a removal tape.
A sealed envelope used for all medical tasks
This pouch is ideal for:
Sending sensitive samples in 1 to 3 groups
Transferring and routing the samples in a safe manner from one entity to another.
Isolating the contaminated samples or contaminants
Packing and storing the medical and biologic samples
Providing samples for analysis and assessment in laboratory.

This sealed envelope perfectly suits medical laboratories, public and private hospitals as well as clinics. It can also be used in all medical practices that handle medical or biologic samples.

Opt for optimal security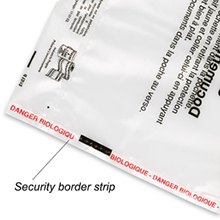 In order to secure your sample transfer in the safest conditions, the Biohazard pouch for medical samples consists of several safety points:
Permanent adhesive: It enables the permanent closure of the pouch which makes it impossible to open.
Unique sequential number: Through this, it is not only possible to identify but also to authenticate the pouch very quickly.
A traceability barcode: It helps to inventory the pouch and limit the risks of loss and theft.
External kangaroo pouch: It is useful to insert documents, especially the information concerning the patient and samples from the latter.
Biohazard logo: It indicates that the pouch content is contaminated and/or contains contaminants. Persons handling this pouch will thus be well informed.


Customize your Biohazard pouch for medical samples.
From 1,000 envelopes ordered, it will be possible to request for customization. You can thus select: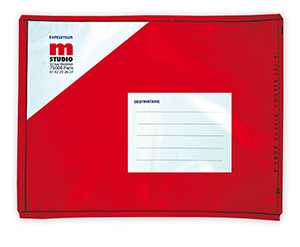 The size. All your requests are feasible and achievable, from the smallest to the largest envelope.
The print design. You can print an image, a logo, or any other design of your choice, with 9 possible different colors (four-color printing + 5 pantone colors).
Bottom gusset. If you plan to transport large items in the envelope, choose a bottom gusset which will increase its capacity.
The security tag. To maximize the safety and security of your shipments, you can supplement your envelope for declared value with a security tag, Prooftag, authentication system via a standard software. Contact us for more information.

For any customization request for your sealed envelope, contact us for a quote.
Data sheet
Unity

le lot de 50

Packaging

le lot de 50

Guarantee

1 an

Code catalogue

C160 D166 E822 F822

Security

Excellent

Adhésif

Burglar-proof security adhesive

Matière

Polyéthylène 70 microns

Format

167 x 265 mm + K150 mm
No customer reviews for the moment.
Tarifs dégressifs Ref. SEP-SED-PBP
| | |
| --- | --- |
| 1 | 31 € |
| 5 | 27 € |
| 10 | 26 € |