Self-laminating Asset Labels
Discover our fully or partially customizable labels
You don't know the numbers of your labels in advance? SBE presents you our blank or pre-printed double adhesive polyester labels with your fixed information such as your logo. You can then print your information yourself using a thermal transfer printer.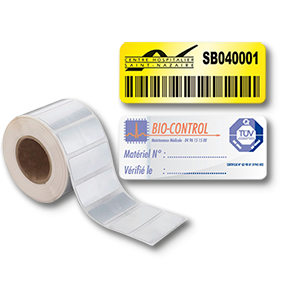 Double adhesive polyester label: top-of-the-range and economical product
All your fixed or variable information is printed in high resolution thanks to a thermal transfer printer, with a precision close to screen printing, while respecting your graphic charter. This will strengthen your company's image and certify the ownership of your property permanently. Also take advantage of our highly digressive rate and do not hesitate to estimate the quantity you need.