3M Pre-Printed Color Background Protected Heavy Duty Asset Tag
De

298.00

€ à

1,045.00

€
Tax excluded
Tax excluded
Livraison : 3 à 6 semaines
Would you like to identify and distinguish your stocks? Opt for our pre-printed color background protected heavy duty barcode asset tag.
This is the best flexible asset tag with barcode for identifying all your stocks, both IT equipment and movable goods, and at a very attractive price ! This polyester barcode label has a high density double adhesive acrylic layer that provides exceptional strength making it very difficult to manually remove the label and ensuring an excellent hold on all types of rough surfaces. It also adapts to any type of harsh environment, even outdoors.
This pre-printed heavy duty barcode asset tag is composed of several layers for an unmatched performance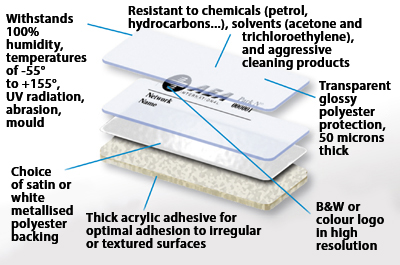 This heavy duty barcode asset tag is composed of several layers that bind together at the time of manufacturing, thus giving a premium quality finished product:
- The high density double thickness acrylic adhesive ensures optimal adhesion on all types of surfaces, especially on rough surfaces. The barcode label also adapts to all types of harsh environments, even outdoors. Manual removable is very difficult.
- The colored polyester surface is the component on which the information and logos are printed in high resolution.
- The 50 microns thick, bright, transparent polyester protective layer effectively protects all the information printed on the surface. The information is legible and does not deteriorate over time. Thanks to this barcode label, your goods are authenticated in a durable manner.
The performance of this color barcode asset tag is unmatched : the 3M customized pre-printed color background protected double-adhesive polyester label is resistant to rough handling, chemicals (gasoline, hydrocarbons...), solvents, cleaning products, humidity, temperatures ranging from -55° to +155°, UV radiation, abrasion and mold.
The special feature of this 3m heavy duty barcode asset tag : its colored background
The 3M protected strong double-adhesive polyester asset label distinguishes itself thanks to its colored background. The colored background has many advantages as it helps to differentiate between different series of labels which helps to clearly identify goods that have several labels on them, and even helps to make identification more accurate, swift and effective. Thanks to this color code, your labeling operation will have an additional value and locating your identification tags will be faster.
Bright color backgrounds can be red, green, yellow or blue.
Moreover, the execution time is short (1 week) since we already have the color backgrounds in stock.
A customized heavy duty asset tag 
The barcode asset tag is customizable in black print with all your fixed or variable information (logos, texts, numbering and/or barcodes). The presence of the logo, on this custom heavy duty asset tag helps to enhance the brand image of your black logo, without a frame, at a highly affordable price.
The print quality is as fine as that of a 1200 dpi laser printer for a high quality customized label.
Expect plate costs only for the first production. Take advantage of our discounted bulk rates on this barcode label model by accurately estimating your quantities.
We offer a standard size of 50x20 mm for our barcode labels. If you want a different size, please contact us.

The announced delivery time is effective after approval for printing.
Data sheet
Unity

le rouleau de 1000

Packaging

Par rouleaux de 1000

Guarantee

1 an

Code catalogue

A006 B006 C019 D019 E116 F116

Fixation

Autocollant

Security

Aucune

Adhésif

Très puissant

Impression

Transfert Thermique / Numérique

Résistance de l'impression

Optimum / Protégée

Résistance générale

Abrasion

Matière

Synthétique

Format

50 x 20 mm
No customer reviews for the moment.
Tarifs dégressifs Ref. MAD-PBPDA-BL-NB
| | |
| --- | --- |
| 1 | 1045 € |
| 3 | 515 € |
| 5 | 381 € |
| 10 | 298 € |
With this product you may need to use: