High Security Authentication stamp
De

489.00

€ à

532.00

€
Tax excluded
Tax excluded
Livraison : 3 à 6 semaines
Reinforced monitoring of the documents

Difficult to imitate

Fully customizable

2 security levels
Read more...
Derived from the technology applied to banknotes, this highly secured stamp allows you to give a high level of security to your most sensitive official documents. Authentication is carried out instantly with a UV lamp revealing the invisible ink. Fully customizable, this security stamp enables you to efficiently secure your official documents.
The right reflex: systematically stamp your sensitive documents for an optimal security process.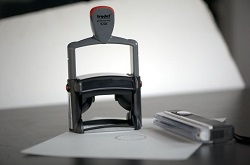 With the help of this security stamp, you ensure strong protection against tampering to your official documents, certificates. Once your documents are signed, you stamp your unique customized logo with invisible ink on it making any attempt at duplication impossible. Authentication is immediate thanks to the UV lamp making the chemical components of the ink react and become visible to the naked eye. For maximum protection, it is recommended to use papers without optical brighteners, for better reflection of the invisible ink under UV. Look up our secure paper range in stock in our store.
The security stamp is similar to any other stamp. With dimensions (11.5cmx7cm) and a total weight of 350 grams, it is a discreet solution for the security of your documents. The ink cartridge has a remarkable shelf life and can secure up to 15000 documents. In addition, a unique and customizable serial number , visible under UV rays, can also be placed. In case of loss, or theft of a stamp, we recreate a new stamp with a new serial number, making the old number obsolete. Thus, if a stolen stamp is used by another person, verification of the serial code will make the forgery visible.
Customization of your secured stamp

1: Select the print format

Whether it is small, rectangular or circular, the print of the secured stamp can be customized in the following sizes: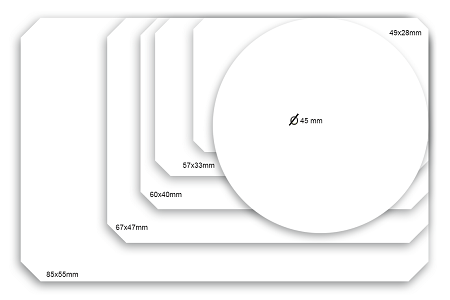 2: Select your security color sets
Select the number of colors, up to four colors, that should appear on your stamp. Each color is available in 3 sizes:
- Visible black : similar to conventional ink stamps, this ink will remain visible under UV and under daylight.
- Chromotropic : Ink possessing chemical polymer chains linked together that give a particular color in daylight: red, yellow or blue and under UV light another color. The UV light contributes by reorganizing the structure of the chains, transforming the initial colors into new colors: green, blue, yellow or fluorescent red
- Invisible ink : Completely invisible in daylight, the concentrated UV rays contribute by photoinitiating the chemical polymers and monomers present in the composition of the ink, making their chains unstable. This excitation makes them visible and a yellow or red color then appears.
Color
Colors restored under UV
Ink
Black
Black

Visible ink

Invisible
Fluorescent red

Invisible ink

Invisible
Fluorescent yellow
Red
Fluorescent yellow

Chromotropic visible ink

Red
Fluorescent blue
Red
"
Yellow
Fluorescent green
Blue
Fluorescent green
Blue
Fluorescent blue
Print examples: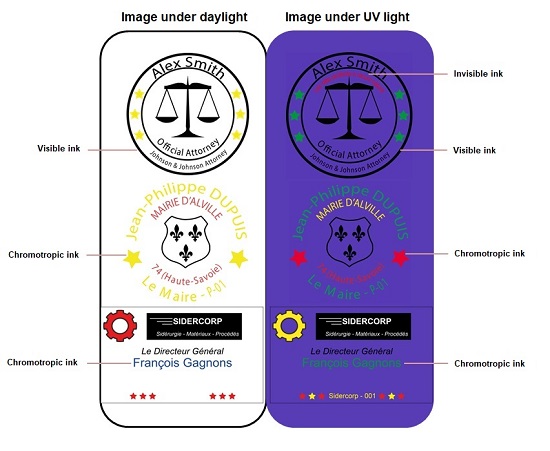 When you place your order, we will ask you to provide us with a design and specifying what color combinations and inks are chosen for the different parts of your graphics. To do this, refer to the ink combinations table above. You can indicate the details of the colors you wish in the comments box while placing your order. For more information on the type of file we need for your layout, please refer to our page SBE recommends / Print your logo . A final press proof will then be provided for signature before starting the stamp manufacturing.
UV inks are reactive with most UV lamps, but the international standard for documentary and fiduciary security requires a lamp set at 365 nm.
Data sheet
Unity

Le tampon

Packaging

Per unity

Guarantee

2 ans

Code catalogue

E1008 F1008

Weight

350 grs

Format

20x11,5x7cm

Vendu avec

Lampe UV, 4 feuilles de papier non azurant
Specific References
ean13

3701053920037
No customer reviews for the moment.
Couleur Empreinte 2 Couleurs Ref. SEP-SED-TAHS-2C
| | |
| --- | --- |
| 1 | 489 € |
Couleur Empreinte 3 Couleurs Ref. SEP-SED-TAHS-3C
| | |
| --- | --- |
| 1 | 509 € |
Couleur Empreinte 4 Couleurs Ref. SEP-SED-TAHS-4C
| | |
| --- | --- |
| 1 | 532 € |
With this product you may need to use: