With the massive development of RFID products, it is important to understand how the technology works and how to use it in the most efficient way. How does the technology work? What is the most effective support in terms of how it is used? What chip to choose? To best find your way among the wide range of media and chips, here are a few simple points to which SBE responds:
1. What does RFID mean ?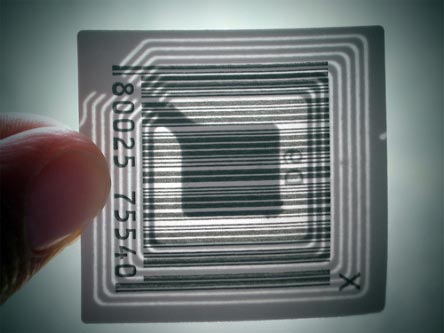 Every day we use RFID products without knowing: via transport cards, anti-theft labels in stores, security badges or more recently contactless keys for our car.
This technology has the advantage of saving users time and allowing quick reading of data. But do you really know what RFID is?
RFID or Radio Frequency Identification is a method to remember and recover remote data. The system is activated by a transfer of electromagnetic energy between a radio label and an RFID transmitter. The radio label, also called RFID tag, is made up of an electronic chip and an antenna that receives the radio signal emitted by the reader also equipped with RFID technology. The components allow both reading and responding to the signals.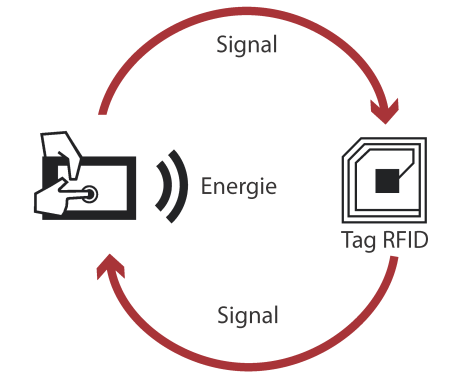 RFID CHIP OU NFC CHIP?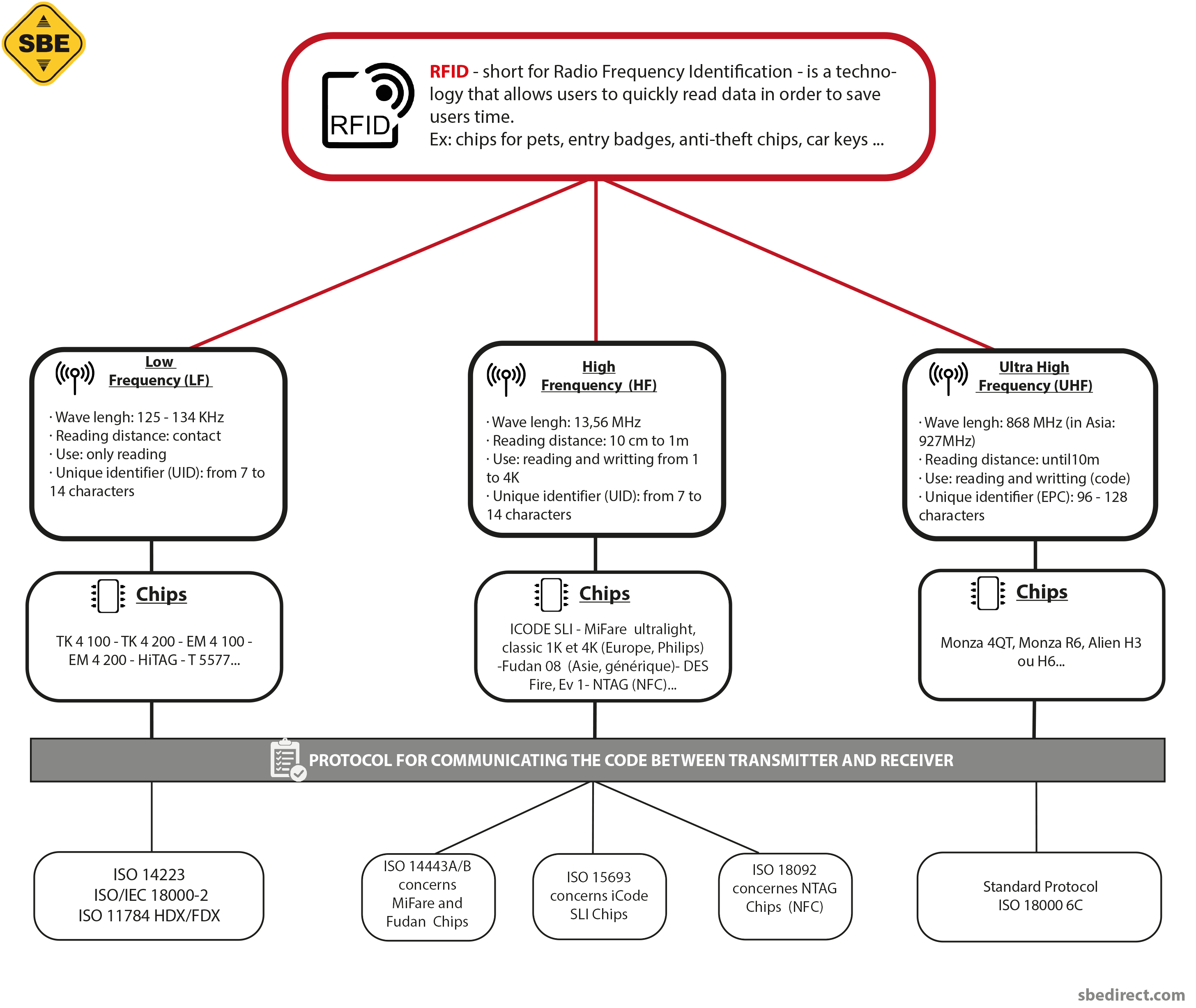 2. For wich media for RFID CHIP and NFC chip?
Today RFID is developing in different media:
Types of surface
Lenses

Identification of people
Contactless payment
Control of access to business premises
Transport
Loyalty cards

Identification & traceability
3 formats of ISO RFID standard labels
The powerful and affordable RFID technology
4 types of RFID chips available

Identification of assets
Stock and inventory
Fight against forgery
Traceability of products
Promotion at events

Bracelets

Identification of people
Contactless payment
Promotion at events

Access to residences, premises, and car parks
Company access badges

Subcutaneous chips
For each different surface, the chip may be for single use (reading only) or rewritable (reading and writing with memory). To choose the chip type, you must first choose the frequency according to the desired use.
3. Communication by the chip.
Frequency is the feature that allows communication between the chip and the antenna. But all chips on the market do not have the same functionality.
The chips differ largely in their operating frequency and the reading distance. The higher the frequency, the greater the reading distance. Depending on these elements, the chip will be more or less powerful and more or less expensive.
Three types of frequencies are used for RFID chips:
Low frequency (125 Khz),
High frequency (13.56 Mhz)
Very high frequency (UHF).
| Type of frequency | Frequency of function | Reading distance (m) | Transfer rate | Standards |
| --- | --- | --- | --- | --- |
| Bass frequency | < 135 kHz | 0.5 | 1kb/s | ISO 14223/1, ISO 18000-2 |
| High frequency | 13.56 Mhz | 1 | 25kb/s | ISO 14443, ISO 15693, ISO 18000-3 |
| Very high frequency | 863 to 915 Mhz | 3 to 6 | 28kb/s | ISO 18000-6 |
A number of manufacturers share the market, offering chips with increasingly high performance. This technology is now standardized and present in many everyday objects.
4. The capabilities of the RFID chip.
This technology has three versions:
Passive RFID
Semi-Passive RFID
Active RFID
Passive RFID works in read-only since the chip does not have a battery and must be moved towards the reader to be read. A powerful electromagnetic signal is sent to it, enabling the RFID chip to be activated and the information contained in it to be read.
On the other hand, active RFID works with an energy source such as a battery or mini battery, which allows the card to be read over longer distances. This technique is mainly used for the traceability of people, vehicles or logistical traceability.
Like active RFID, semi-passive RFID is powered by an energy source. However, the battery feeds the RFID chip at regular time intervals. It does not send out a signal. This technology is useful for food traceability, especially to record changes in temperature during transport.