Authentication Labels & Seals
You would like to ensure that your mail has not been opened , and that your boxes and other containers have not been opened or tampered with? Benefit from genuine guaranteed security with these security seals : they will truly ensure the authenticity of your property and at a very low price. The security seals are high-tech products and are impossible to remove without destroying them completely, they will immediately make it clear that the seal has been broken.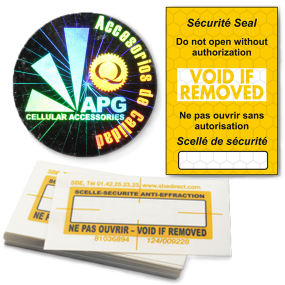 Whether in the military, government or business sector, the versatility (apply in 3 seconds, usable on mail, boxes, important documents…) and optimal customization (texts, logos, colours…), as well as the affordable (very degressive rate) of these security seals makes them a highly valued product among our customers. Recently we also started offering hologram labels, adhesive hologram, this security hologram is the latest in authentication and security technology.