TTh Destructible PVC Blank Asset Label Rolls
De

155.00

€ à

1,093.00

€
Tax excluded
Tax excluded
Livraison : 3 à 6 semaines
High performance technical label
The best selection of materials and adhesive
Compatible with any TTH printer
Harsh environments
Read more...
SBE, specialists in high performance technical labels, offer you its ultra-destructible PVC label, now available in blank rolls for thermal transfer printers. The labels come in 3 sizes that are perfectly adapted to SATO and CAB printers. Contact us for any other specific size or cut.
Optionally, these label rolls can be pre-printed in color, based on your requirements: frames, artwork, logos, or fixed texts.
PVC label rolls are particularly preferred by inventory professionals
In the three months following the completion of an inventory using professional labels, about 10% of the stock lose their labels because of shifting or removal of the labels. Thanks to the ultra-destructible PVC label that is completely non-transferable, you can significantly reduce the risk of defective labels.
With a material that disintegrates completely to indicate tampering attempts, this PVC label roll is very difficult to remove and completely breaks apart into tatters in case of a tampering attempt. It is due to this tamper-evident feature and its versatility, since it can be used on many types of surfaces, that inventory professionals prefer this label to other more expensive labels.
It is very easy to use this PVC label roll: once the adhesive is removed, all you have to do is stick it to the surface that you wish to inventory, and the label roll will perfectly blend in with the edges. The label roll also constitutes a perfect security seal since the label disintegrates if removal is attempted: this feature helps to detect direct tampering attempts on your property. Virtually non-transferable once removed, it is impossible to stick the label on another surface.
Using this seal for your equipment allows you to easily detect any attempts of unauthorized access to a product. Furthermore, if you use it as an inventory label, you can easily detect if removal is attempted, and can immediately replace it. This label is suitable for the protection of your guarantees, and thus constitutes a real deterrence.
The ultra-destructible PVC label has optimal features.
Designed for securing inventories that require frequent handling, this customized non-transferable PVC label withstands temperatures ranging from -55° to +135°, humidity, oil, UV radiations and is also resistant to conventional cleaning products.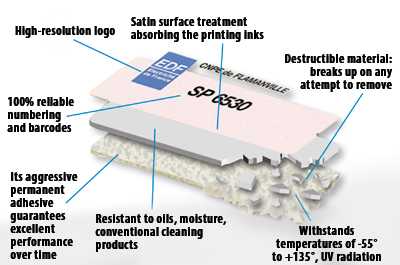 The finishing and rendering of this label roll is impeccable. It consists of three layers which bind together during application:
1) The first part is an strong and permanent adhesive that guarantees excellent strength and durability.
2) This adhesive latches on to the ultra-destructible PVC that is resistant to moisture and to common cleaning products, and completely disintegrates in case of a tampering attempt.
3) Finally, the third layer involves surface treatment with satin material that effectively sets the printing inks that will eventually be embedded on this surface.
With the help of the thermal transfer printer, you will be able to display all kinds of information (fixed or variable) on the PVC label: the surface fully integrates all the information and will highlight your company's brand image.
Customize your PVC label in your own way.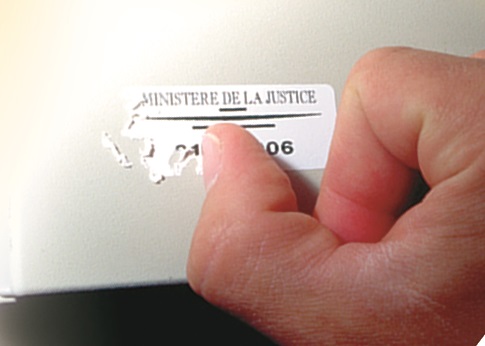 Make an accurate estimate of your quantity requirements and order a higher volume to make the most of our degressive pricing. This ultra-destructible label roll meets your requirements for higher quantities and allows you to make some great savings.
This black print ultra-destructible PVC label is available in three different sizes: 40 x 15mm, 50 x 20mm and 60 x 25mm.
Order your samples by clicking on the "Request sample" button: you can thus perform your own tests to determine if the product corresponds to your requirements.
Data sheet
Unity

le rouleau

Packaging

le rouleau

Guarantee

1 an

Code catalogue

A025 B025 C013 D013 E090 F090

Fixation

Autocollant

Security

Intransférable destructible

Adhésif

Sécurisé

Impression

Transfert Thermique / Numérique

Résistance de l'impression

Usage courant

Résistance générale

Températures

Matière

Synthétique
No customer reviews for the moment.
Format 40x15mm Ref. IMP-PVCD1-1
| | | | |
| --- | --- | --- | --- |
| 1 | 155 € | 464 € | 773 € |
Format 50x20mm Ref. IMP-PVCD2-1
| | | | |
| --- | --- | --- | --- |
| 1 | 186 € | 557 € | 928 € |
Format 60x25mm Ref. IMP-PVCD3-1
| | | | |
| --- | --- | --- | --- |
| 1 | 219 € | 656 € | 1093 € |
With this product you may need to use: