Destructible Color Print PVC Asset Label
De

299.00

€ à

1,281.00

€
Tax excluded
Tax excluded
Livraison : 3 à 6 semaines
Your inventory securely locked
Tearing-off highlighted
Non-reusable security seal
Non transferable
Read more...
This customized ultra-destructible, non-transferable PVC barcode label allows you to make your inventory highly efficient while making great savings thanks to our highly discounted bulk prices.
Do not hesitate to compare, our ultra-destructible labels have succeeded for their quality-price ratio during the multiple laboratory tests conducted on them.
The ultra-destructible PVC barcode label is the label preferred by inventory professionals.
In the three months following the completion of an inventory using the best in class labels, about 10% of the stock lose their labels because of removal or ill-timed shifting of the labels. Thanks to the customized ultra-destructible PVC barcode label you will significantly degressive pricing the risk of defects in labels since this label is totally non-transferable.
Equipped with a material that disintegrates completely, this PVC label is very difficult to detach and will completely break into bits if there is an attempt to remove it. It is for this reason and also for its great versatility, since it can be fixed on numerous surfaces, that inventory professionals have preferred this label to other more expensive ones.
This ultra-destructible PVC barcode label is very easy to use.
Once the adhesive protection is removed, all you have to do is stick it to the surface that you wish to inventory, the barcode label (print example) will fit its contours perfectly. It can also constitute a perfect security seal since the label disintegrates if removal is attempted: this feature helps to directly detect tampering attempts on your goods. Absolutely non-transferable, it is thus impossible to restick the label elsewhere.
By using this label as a seal on your goods, you will easily notice if there has been a forced opening, and even when you use it as an inventory label you can easily identify attempts to tear-off, because the removal signs become instantly visible, thus enabling you to immediately replace it. This barcode label can serve as an effective protection of guarantees and is thus a real deterrent.

The professional label has optimal features
Designed for secured inventories that require frequent handling, this non-transferable PVC label withstands temperatures ranging from -55° to +135°, and is also resistant to humidity, oil, UV radiation and conventional cleaning products.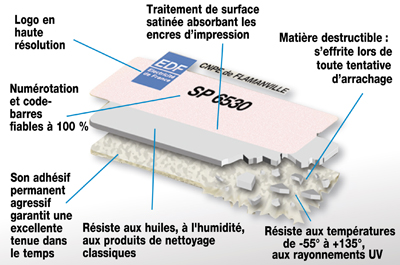 The finish and result of this barcode label are impeccable, it consists of three layers which bind together while assembling:
1) The first part is an aggressive and permanent adhesive that guarantees excellent holding strength.
2) This adhesive latches on to a destructible material that is resistant to moisture and to common cleaning products, and it will completely disintegrate in case of an attempt to tear-off.
3) Finally, the third layer is the surface treatment with satin material that effectively sets the label's printing inks that will be subsequently embedded on this surface.
You will be able to display fixed information: texts and logos (black, without a frame), but also variable information such as numbering, this will enhance your company's brand image. All our prints are done by thermal transfer, they are much more resistant and of superior quality. The logos are printed in high resolution with the help of very high performance wax/resin ribbons and moreover, the barcodes are highly reliable, all intended to deliver an impeccable result of the product on the customized label. (Plate costs are to be expected for the first production).
A customized ultra-destructible PVC label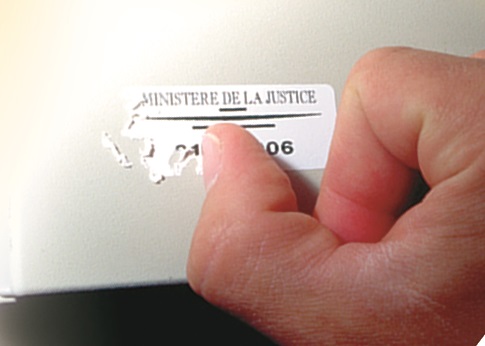 Do not hesitate to make an accurate estimate of your quantity requirements and order a higher volume to make the most of our highly discounted bulk rates, this customized ultra-destructible label is ideal if you require large quantities, you will thus make great savings.
This barcode label (print example) ultra-destructible color print PVC is available in three different sizes: 40 x 15mm, 50 x 20mm and 60 x 25mm. The delivery is quick and is done within a week only after press proof approval. (blank material is also in stock).
Order your samples by clicking on the "Request sample" button: you can thus perform your own tests to determine if the barcode label corresponds to your requirements.
Data sheet
Unity

le rouleau de 1000

Packaging

Par rouleaux de 1000

Guarantee

1 an

Code catalogue

A003A B003A C012 D012 E111 F111

Fixation

Autocollant

Security

Intransférable destructible

Adhésif

Sécurisé

Impression

Transfert Thermique / Numérique

Résistance de l'impression

Usage courant

Résistance générale

Températures

Matière

Synthétique
No customer reviews for the moment.
Format 40x15mm Ref. MAD-DEST1-CO
| | |
| --- | --- |
| 1 | 1180 € |
| 3 | 527 € |
| 5 | 397 € |
| 10 | 299 € |
Format 50x20mm Ref. MAD-DEST-CO
| | |
| --- | --- |
| 1 | 1231 € |
| 3 | 569 € |
| 5 | 447 € |
| 10 | 339 € |
Format 60x25mm Ref. MAD-DEST3-CO
| | |
| --- | --- |
| 1 | 1281 € |
| 3 | 594 € |
| 5 | 457 € |
| 10 | 354 € |
With this product you may need to use: