Safe-Tech Remote-Control Cable Lock
De

14.00

€ à

25.00

€
Tax excluded
Tax excluded
Livraison : 3 à 6 semaines
Reinforced cable: maximum security
Discretely protects your belongings from theft
Simple and quick installation
Specially designed for exhibition equipment
Wide range of movement
Read more...
Secure remote controls and other small electronic devices with our new Safe-Tech anti-theft remote control security cable. Durable and very easy to use, it will allow you to permanently protect small electronic items in hospitals, conference rooms, hotel rooms and more.
A cable that combines elegance and high security
This safe-tech steel anti-theft cable if difficult to cut and has been specially designed to provide maximum security for small electronic devices. It is ideal for remote controls but also for any valuable items available to be taken, for example in hospitals, hotel rooms, conference and meeting rooms or rooms with public access. Its design has been completely revamped to be more discreet, and above all, to provide a wider range of movement thanks to its ergonomic design.
Ever eager to offer you the safest products, SBE has improved the strength of this cable, which can now withstand a pull force of 130 kg.
Below is the result of the pull test: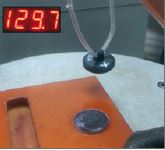 Available in 2 colours, you can choose between a 65 cm or 1.5 m cable depending on your requirements. It comes with a very powerful cyanoacrylate glue to stick the 2 ends of the Safe-Tech anti-theft cable. It is only enough for one with the cable. It is impossible to steal the item without damaging it. This cable is the ideal solution to ensure your remote controls and other small electronics items are secure.
A simple and permanent installation
Remote controls and other electronic items will be secured quickly and easily. A mini anchor plate (Ø 20 mm) is attached to each end of this steel cable (Ø 1.5 mm, Ø total 2.3 mm. One end sticks to the remote and the other to a fixed anchor point such as a wall or furniture. The adhesive will stick the cable to the item, guaranteeing permanent protection.
A customised anti-theft cable
As SBE is the designer of these Safe-Tech cables, we are able to offer you the option to customise them according to your needs:
A minimum number of cables must be ordered and there is a delivery time of 6 weeks.
You can change the following criteria:
colour for 3000 cables
length for 1,000 cables
thickness (cable diameter) for 1,000 cables
form (coiled or uncoiled) for 1000 cables
adding a head to the end for 1000 cables
You can also add your logo with 1 or more colours.
Contact us directly for a personal consultation.
We also offer other types of anti-theft cables and audiovisual security equipment.For more information click the following link.
Be careful not to use degreasing agent bags for these products requiring gluing with Cyanoacrylate glue.
Data sheet
Unity

le câble

Packaging

Per unity

Fixation

Soudure Cyanoacrylate

Security

Excellent

Ø Câble

2,4 mm

Résistance à l'arrachage

120 kilos

Colour

Existe en blanc et en noir

Weight

0,28 Kg

Longueur du câble

65 cm ou 1,5 m
No customer reviews for the moment.
Longueur du câble 1.50 m Ref. SEP-CAMA-STLB
| | |
| --- | --- |
| 1 | 25 € |
| 10 | 22 € |
| 50 | 18 € |
| 100 | 15 € |
Longueur du câble 65 cm Ref. SEP-CAMA-STSB
| | |
| --- | --- |
| 1 | 23 € |
| 10 | 20 € |
| 50 | 17 € |
| 100 | 14 € |
With this product you may need to use: