Long-term Tracking Heavy Duty Tag
De

84.00

€ à

536.00

€
Tax excluded
Tax excluded
Livraison : 3 à 6 semaines
Very resistant to external forces
Wide range of colours
3 customisation options
Read more...
This polyethylene identification plastic tag will allow you to identify and certify the ownership of electrical poles, conduits and cable beams. Specially designed for the telecommunications sector, this tag is very resistant to external forces. SBE offers deep laser engraving to customise your plastic tag with your text and numbers.
A durable polyethylene identification tag
This 73.5 x 50.5 mm professional tracking tag was designed specifically for the identification of electrical poles, conduits or cable beams. It serves as a unique registration or identification plate. It is suitable for outdoors and underground. Made of polyethylene, this tag withstands temperatures ranging from -50° to +85°, but also moisture, UV, impact and chemical agents. With 4 round holes measuring Ø 2.8 mm and 4 oblong holes measuring 2.8 x 11.5 mm located at the ends, you can choose to fix this tag with a stainless steel or plastic clamp, screws or nails. It saves a considerable amount of time and is profitable long-term.
This plate is RoHS certified.
3 options for fully customising your plastic tag
You have the choice between several colours to stand out: black, green, red, blue, orange, yellow and white.
For tracking and for unique identification of items to be inventoried, SBE offers a deep laser engraver that guarantees permanent marking. You can choose to burn between 1 and 4 lines and it has a maximum capacity of 48 characters (12 characters per line, character height: 5 mm) to personalise your plate: " PROPERTY OF ", COMPANY NAME, SEQUENCE OR UNIQUE SERIAL NUMBER. 
     From 4 boxes of 100 attachments. For a laser engraving of a barcode or QR code, contact us.   
  2. Cold press embossing with our cold press numbering machine.
 3. If you prefer to keep control of your identifiers and engrave this tag yourself, we offer you a manual cold press.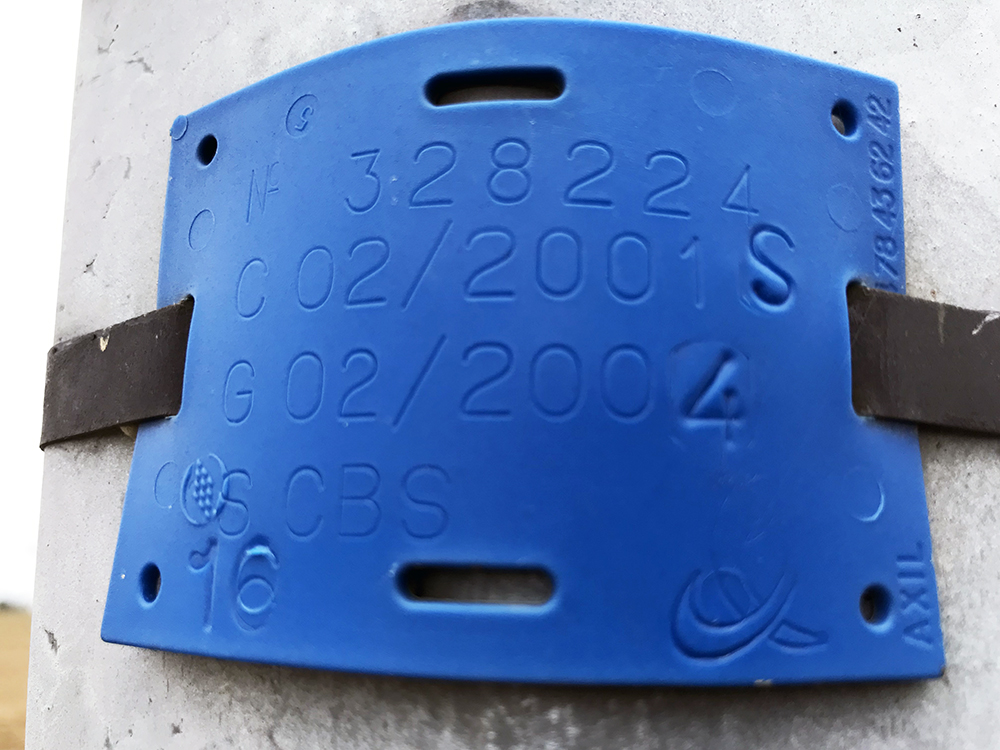 Only on quotation, price from 5000 €, contact us.
Data sheet
Unity

les 100 plaques

Packaging

Par paquet de 100

Fixation

avec collier de serrage, vis ou clous

Résistance générale

températures entre -50° et +85°, humidité, UV, agents chimiques, chocs

Matière

Polyéthylène, sauf la plaque blanche : polypropylène

Tenue

Rigide

Perforation

4 perforations rondes de Ø 2,8mm et 4 perforations oblongues de 2,8 x 11,5 mm

Weight

0,6 Kg les 100 plaques

Format

73,5 x 50,5 mm

Epaisseur

1,5 mm
No customer reviews for the moment.
Impression Vierge Ref. MCE-CHM-BC
| | |
| --- | --- |
| 1 | 94 € |
| 5 | 87 € |
| 10 | 84 € |
Impression Personnalisé Ref. MCE-CHM-BC-P
| | |
| --- | --- |
| 1 | 536 € |
| 5 | 495 € |
| 10 | 475 € |
With this product you may need to use: