Custom Tamper-proof Security Hologram
De

111.00

€ à

4,202.00

€
Tax excluded
Tax excluded
Livraison : 3 à 6 semaines
Holographic label

Adhesive hologram

Unlimited customization

Reproduction impossible

High level of security

Immediate authentication with the naked eye

Many security points

Forgery-proof and tamper-proof
Read more...
Discover your new range of high security hologram label intended to authenticate and reliably secure your sensitive documents or copyable products. These forgery-proof holographic labels provide the most effective solution in the fight against counterfeiting, which is a threat to many types of brands. The CIB (Counterfeiting Intelligence Bureau) estimates that counterfeiting accounts for 10% of the global trade, that equals to about 320 billion euros. Protect yourself from this financial loss using hologram labels.
What is the use of this holographic label?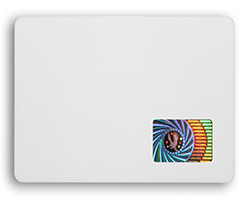 The holographic label is ensured by high level of security, simple and quick authentication as well as unlimited possibilities in terms of design and security. The holographic label is generally designed by three-dimensional laser techniques, which makes it very difficult to forge because of its complexity but also the cost of the technology used for its design.
This type of hologram label cannot be scanned or photographed: it cannot therefore be fraudulently reproduced, which guarantees in principle its inviolability. The difficulty of reproduction proves the authenticity of the product. The holographic label is thus used as a means of communication and protection of the brand.
These adhesive holograms that cannot be forged and cannot be photocopied will allow you to authenticate and to secure all your important documents: letters, checks, signatures, temporary and permanent access badges, official documents...
Examples of the use of high security holograms on goods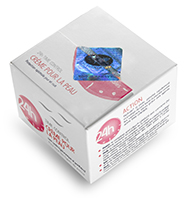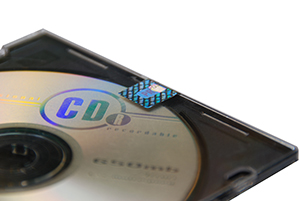 What is the security level for the holographic label?
This holographic label is designed on the basis of a multitude of specific layers constituting their forgery-resistant character. It authenticates the product. The adhesive hologram is essential in the la fight against tampering, fraud or counterfeit.
Each type of adhesive hologram label offered in this range has its own "security points" which provide the desired level of security and the level of control to be selected according to your authentication requirements of documents and property to be secured.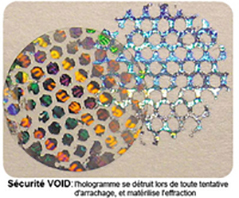 Moreover, any attempted removal will permanently destroy the hologram label (with its standard breakable adhesive "VOID") and will thus reveal any attempt of tampering, both on the label and on its support.
And for a reinforced authentication, each adhesive hologram is engraved deeply by laser with a forgery-proof unique serial number (also destructible during removal).
How is the hologram label designed?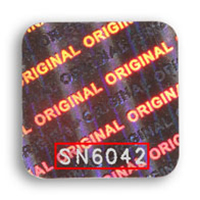 All our hologram labels are real 3D holograms (not simple labels in metallic diffraction), most often enabling authentication with the naked eye (and for some security points with a reading tool) and to ensure the originality of the surfaces on which these adhesive holograms are affixed.
There are 3 major technologies to manufacture these hologram labels. The range that we offer here consists of "2D/3D" and "Dot matrix" ("E-Beam on request" ) holograms.
- 2D/3D holograms are made using optical image recording laser. The most common and economical technique.
- Dot-matrix hologram manufactured using laser technology controlled by a computer system. Offers finer finish, more intense light diffraction and more security points.
- E-Beam holograms producing holograms of very high quality but very expensive and requiring production in very large quantities.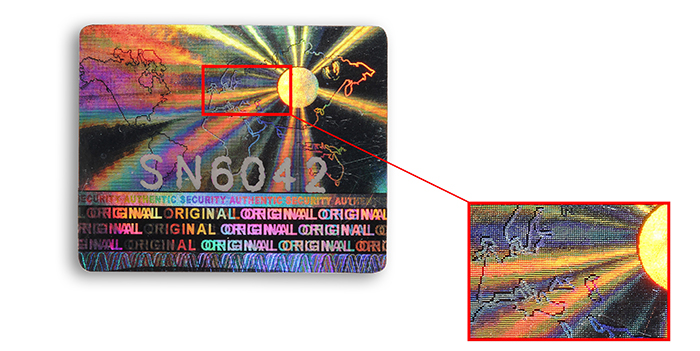 To know more about the techniques for manufacturing hologram labels and to better understand these security points, see our article "Understanding 3-Point Holograms"
How to produce your own self-adhesive holographic security label?
By customizing your adhesive hologram labels you attain a better security level.
To start a specific production of holographic labels, simply follow the following steps:
1. Select the hologram type
Your hologram is an image composed of 2 to 6 layers, depending on the desired effects, precision and security points. Select the number of overlapping layers you want. With 2 layers, the effects will be less precise than with 6 layers.
Depending on what you are looking for, here are some guidelines:
2 layers allow you to toggle, guilloches, micro-text / micro-image. In general, a first layer for the background, and a second layer for the effect.
4 layers allow you to start an animation, a 3D effect, on 4 successive images.
6 layers allow you a more fluid, precise / assured animation such as a flying bird or a rotating globe. And also many more layered effects. For more details, see the table below which details layers, effects, and resolutions.
2. Select the size and the shape of the adhesive hologram

The adhesive holograms that we offer provide an unlimited range in size and shape. Whether round, square, rectangle or other shapes, you are free to leave room for your imagination and create an adhesive hologram that best suits your use. Our plates are 17cm by 17cm and can contain on an average about 50 holograms with a diameter of 2cm. A plate can contain from around 2 to 200 holograms depending on the size selected. The price is per plate with a minimum of 100 plates per order. The holograms sizes range from 10x10 mm to 140x70 mm
3 . Select your security points
As with any printed element, your hologram can be produced with more or less finesse and detail, always depending on the security points selected, it is the resolution expressed in Dpi.

Select the resolution you want to give to your holograms, in Dpi, always according to the chosen security points. The proposed resolutions are as follows:
600 dpi for precise rendering of all texts and images visible to the naked eye.
1200 Dpi for a very precise rendering of simple guilloches, very small texts readable with a magnifying glass but visible to the naked eye.
3000 Dpi for a perfect rendering of guilloches, micro-texts and micro-images, visible with a magnifying glass but invisible to the naked eye. 6000 DPI for an extremely precise rendering of guilloches, nano-texts and nano-images, readable under a microscope but invisible to a magnifying glass and the naked eye.
The table below lets you know the minimum number of layers, the minimum resolution and the description of the different effects that we offer.
Security points
Advantages
Minimum number of layers
Minimum resolution
Graphic examples

3D effect

Effect with 3D animation

Between 4 and 6
6000

Authentic colors

Effect where the true color of the object is visible from a certain angle

Multi-channel effect

Effect where more than one image appears on the same space, visible depending on a certain angle

Between 4 and 6
600 to 1200

Opaque Effect

Special effect using a set of dots to simulate an opaque effect

Moire revealing a hidden image

Hidden image visible only with special optical film

Toggle effect

Effect showing two images from a different viewing angle. When the hologram is tilted, the image changes

2
600 to 12000

Kinetic / dynamic effect

Effect showing visible motion at certain angles

Guilloche

Fine textured lines like those used in banknotes as a high level of security

2

600 to 1200: single guilloches, visible to the naked eyes

3000: guilloches visible with a magnifying glass, invisible to the naked eyes

6000: guilloches readable under a microscope, invisible to a magnifying glass and the naked eye

Micro text or image

Enables hiding secret elements integrated in the hologram which can be read only by means of specific reading devices such as a microscope or a decoding film

2

3000: micro-texts et micro-images, visible with a magnifying glass, invisible to the naked eye

6000: nano-texts and nano-images readable under a microscope, invisble to a magnifying glass and the naked eye

Laser revealing a hidden text or image

Enables revealing certain texts or images invisible to the naked eye using a laser beam reflected on the hologram

Laser engraved sequential number

Increases the security of the hologram by engraving a number

N/A
N/A

Adhesive seal

Single use, nontransferable, leaves a trace after peeling off and destroys the hologram. Reveals the tampering.

N/A
N/A
4. Select the hologram color
The usual color of our adhesive holograms is bright silver, but we can also execute everything in other metallic and bright colors that can distinguish your holograms and provide them additional security, such as gold or metal red.
The transparency of the holographic sticker is used to protect and authenticate writing or a print on a document such as a signature, amount on a cheque... without hiding it. We offer the following colors: silver, gold, blue, red, gren and transparent.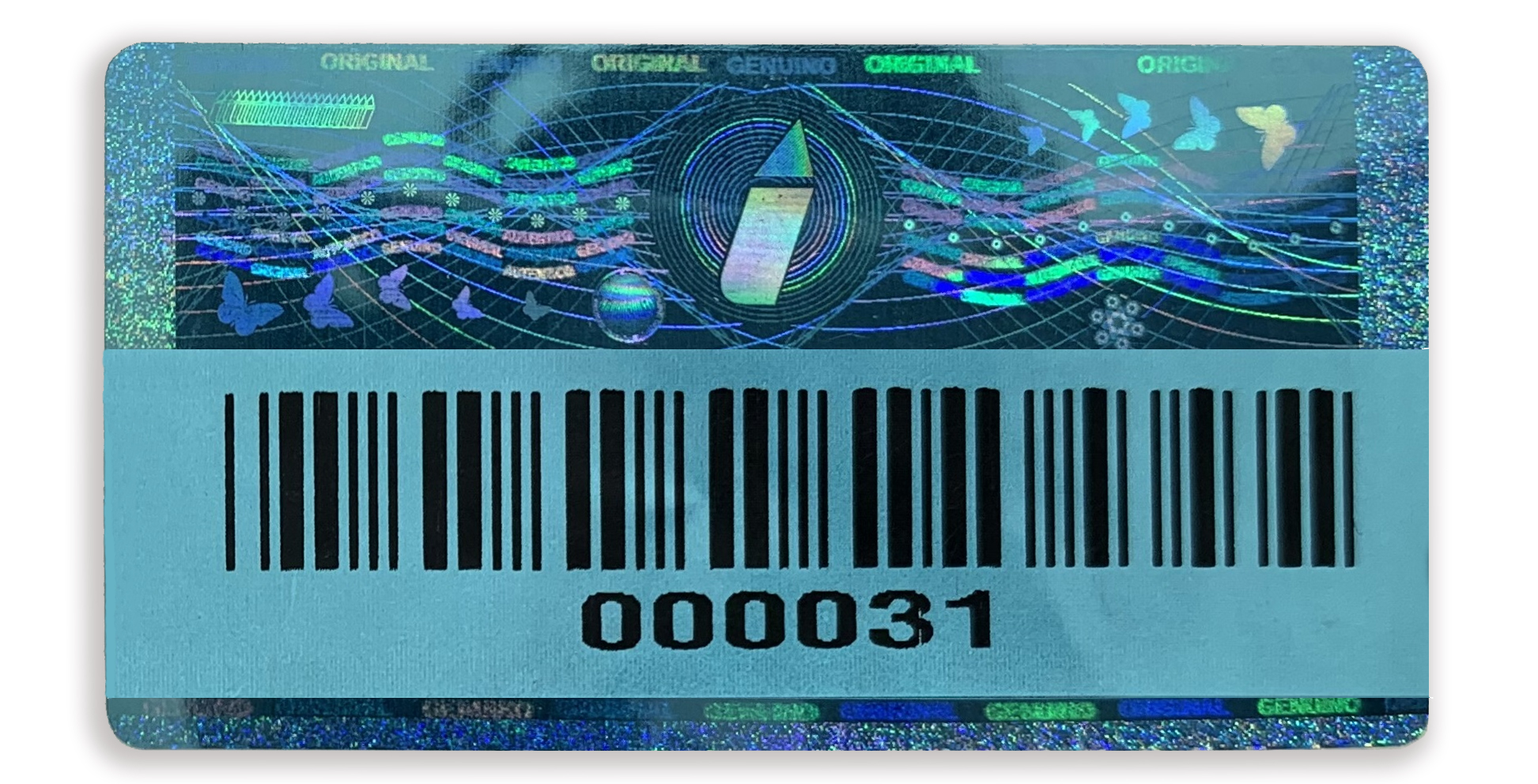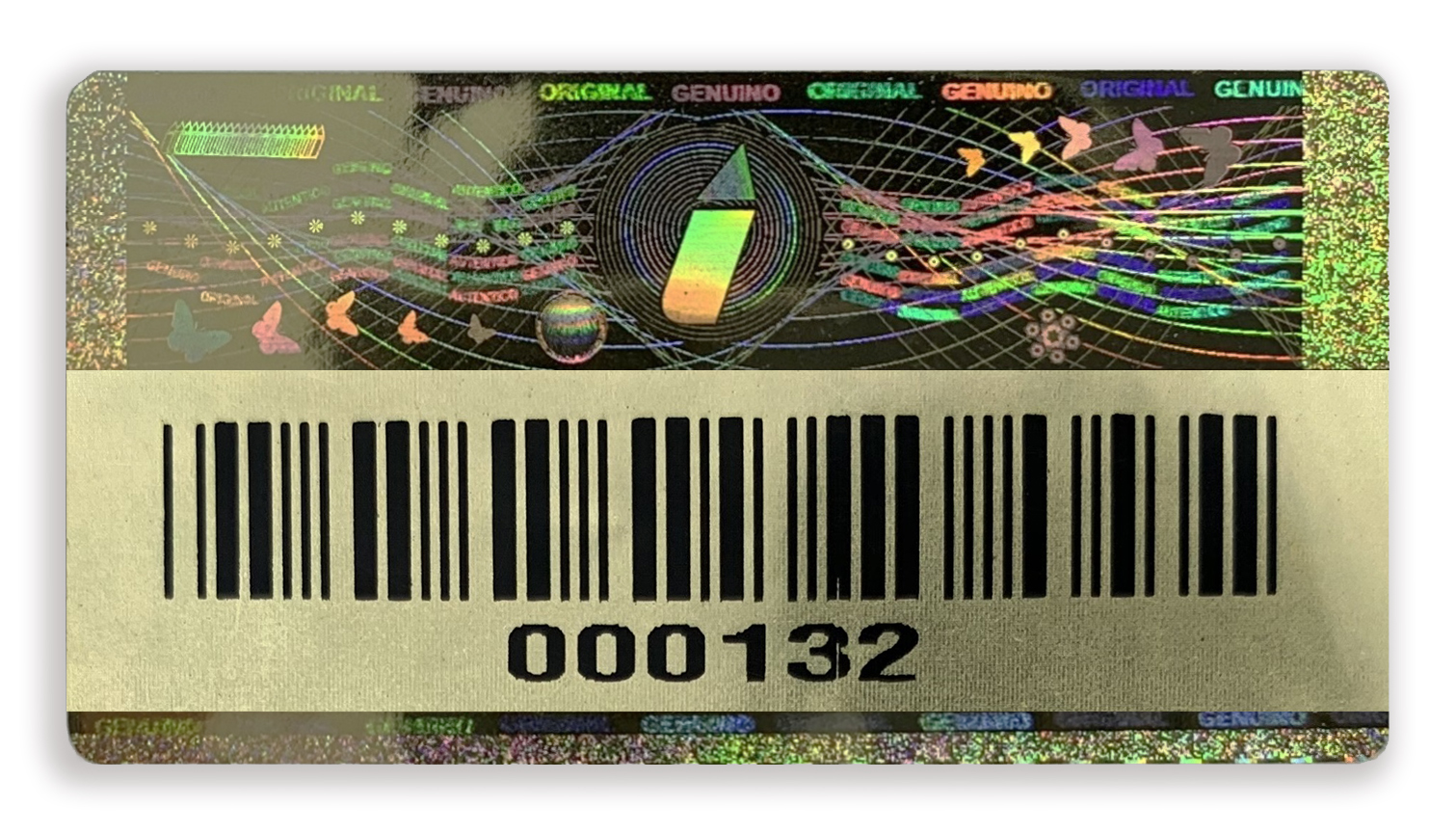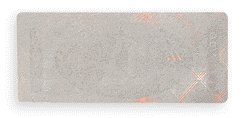 5. Select its design

You will need to provide us with a simple pre-layout (word, manual drawing...) illustrating at its best the design that you would like for your hologram label. For this, you can take inspiration from the existing designs of our standard hologram labels. In order to better represent the 3D effects and security points you have selected, please indicate to which elements of your model you would like to assign certain holographic and security features.
Then, you will have to send us separately in digital form the various graphic elements in high resolution (logos, texts, fonts, drawings...) that you wish to display on the adhesive hologram For complex designs, we may ask you to pay on time-spent basis for the computer graphics.
It would be simpler if you could, for more precision, directly provide us an original design of the adhesive hologram in Adobe Illustrator that includes several layers, one for each desired effect, with embedded high-definition visuals.
After this, you will be offered a art proof and its validation will enable the creation of the origination matrix, and you will receive a test sample of the actual result that you will also have to validate. Allow 3 weeks production time after the art proof.
Buy your matrix that will be yours and can never be used by anyone other than you. This matrix will be used to initiate the production of adhesive holograms. It will also be used for any reproductions that you would have to execute.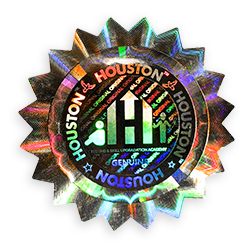 Barcodes et QR code
We offer another level of customization of your hologram with the addition of QR Code and Barcode. The hologram then has a double use: it protects against counterfeiting and allows you to identify your product simply, quickly and efficiently. Thanks to this code personalization, you can also authenticate products that you have in stock and ensure safe delivery. For adding code, count about 30% more on the original price.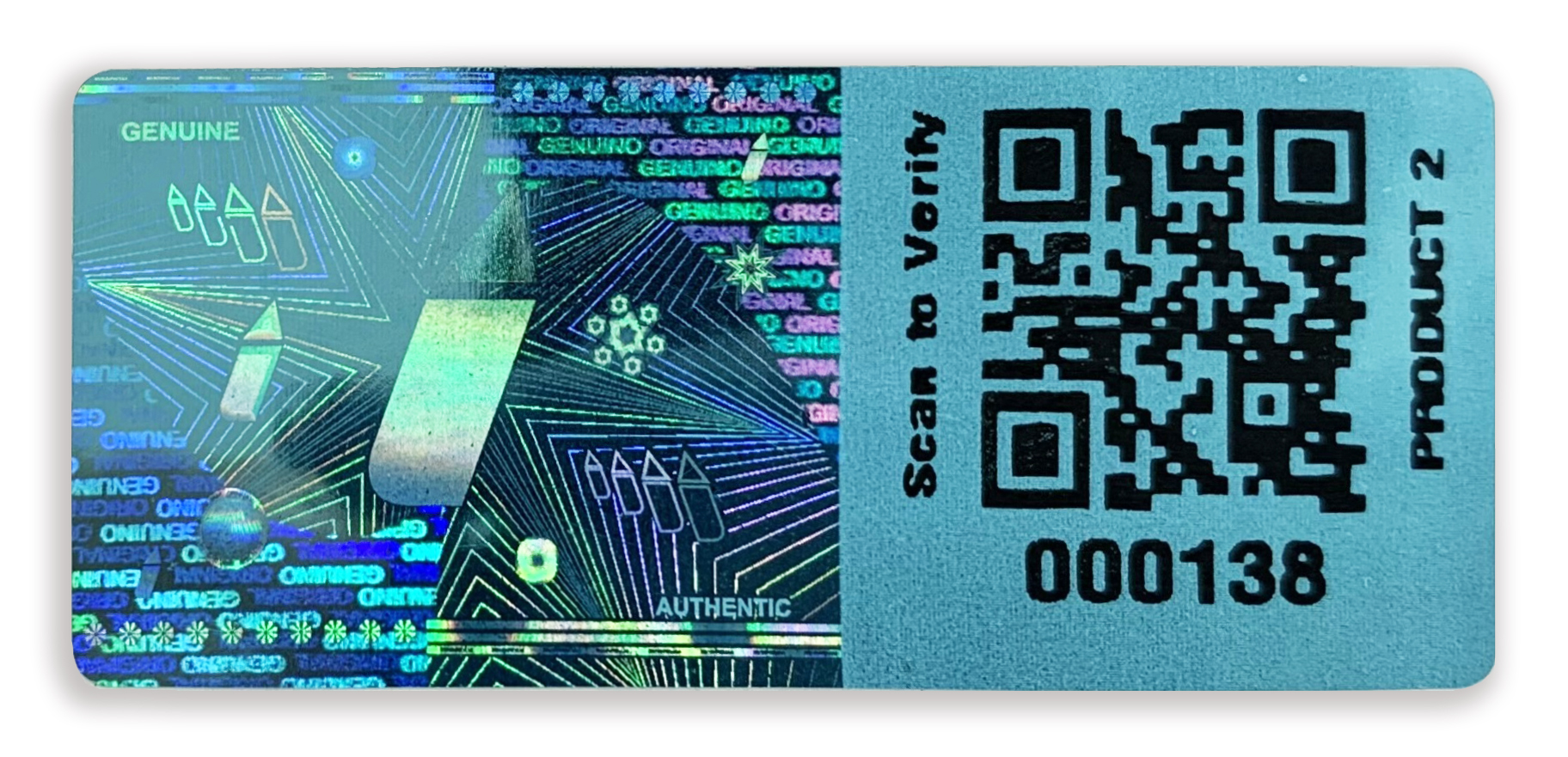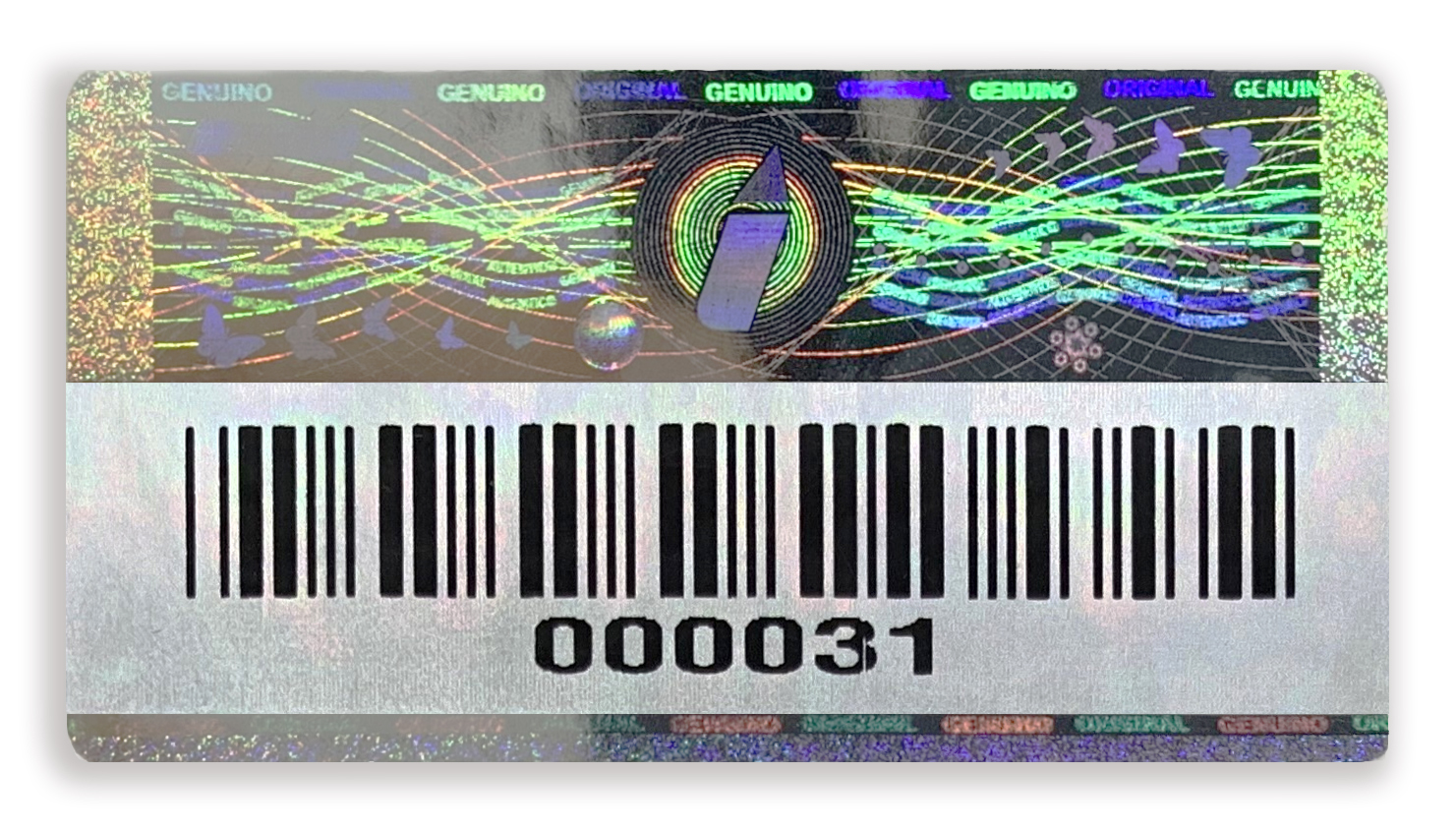 How to choose between a QR code and a barcode?

The QR-code can be read more easily and is generally linked to a web page. All you need is a smartphone and open your camera to read the QR code. It allows you to transmit real content.
On the contrary, the barcode requires a barcode reader and is more restrictive as to the information transmitted. So the choice of code depends on the amount of information you want to store and transmit as well as the use of the hologram. The QR code can contain a lot of information: 7089 numeric characters, 4296 alphanumeric characters, unlike the normal barcode which can only store 10 to 13 characters or 2953 bytes!
Data sheet
Unity

Le paquet de 100 planches

Packaging

en planche

Guarantee

1 an

Fixation

Adhésif VOID

Security

Authentifiant

Adhésif

Sécurisé

Impression

Gravure

Résistance de l'impression

Excellente

Résistance générale

Huiles / Solvants

Material

Polyester + métal
No customer reviews for the moment.
Calques 2 Ref. MSEC-HOL-RC1
| | | | | |
| --- | --- | --- | --- | --- |
| 1 | 1508 € | 1688 € | 1868 € | 2047 € |
| 2 | 891 € | 980 € | 1070 € | 1160 € |
| 5 | 463 € | 499 € | 535 € | 571 € |
| 10 | 284 € | 302 € | 320 € | 338 € |
| 20 | 154 € | 163 € | 172 € | 181 € |
| 50 | 111 € | 115 € | 119 € | 122 € |
Calques 4 Ref. MSEC-HOL-RC5
| | | | | |
| --- | --- | --- | --- | --- |
| 1 | 1688 € | 1868 € | 2137 € | 2406 € |
| 2 | 980 € | 1070 € | 1205 € | 1340 € |
| 5 | 499 € | 535 € | 589 € | 643 € |
| 10 | 302 € | 320 € | 347 € | 374 € |
| 20 | 163 € | 172 € | 186 € | 199 € |
| 50 | 115 € | 119 € | 124 € | 129 € |
Calques 6 Ref. MSEC-HOL-RC9
| | | | | |
| --- | --- | --- | --- | --- |
| 1 | 2227 € | 2586 € | 3125 € | 4202 € |
| 2 | 1250 € | 1429 € | 1699 € | 2237 € |
| 5 | 607 € | 679 € | 787 € | 1002 € |
| 10 | 356 € | 391 € | 445 € | 553 € |
| 20 | 190 € | 208 € | 235 € | 289 € |
| 50 | 126 € | 133 € | 144 € | 165 € |
With this product you may need to use: