Forgery-proof And Destructible TESA Safe Color Acrylate label
De

342.00

€ à

976.00

€
Tax excluded
Tax excluded
Livraison : 3 à 6 semaines
Easy and structured inventory
Visible signs of tearing-off
Non reusable security seal
Non transferable
Read more...
This TESA acrylate color label is the most powerful among our security labels. The variants in red, blue and yellow make it a label-seal that is visible from a distance and proves to be the best solution for clearly displaying a sign of security, validity and guarantee.
An acrylate label for sealing, signaling and securing.

Made of powerful TESA acrylate, this ultra-destructible label provides multiple benefits for all inventory applications. A bright background with a distinct contrast of colors, chosen from our color range, makes this label clearly visible on all your asset surfaces.
Fix it on all types of exterior or interior surfaces : its TESA adhesive ensures very strong adhesion. You will no longer have any doubts about the authenticity of your labels : in case of tearing-off, it is completely destructible, you can rest assured as this label cannot been transferred from one surface to another.

Its non-transferability allows you to confidently use this ultra-destructible label as a security seal : it is clearly visible thanks to its bright colors and you can protect your property (files and confidential envelopes, casings, valuable objects...) by discouraging tampering knowing fully well that an attempt at break-in will not go unheeded.


Powerful
Resistant to various aggressive conditions (shocks, abrasion, scratches, humidity, UV radiation, degreasing agents, hydrocarbons, solvents, grease, acids and temperatures ranging from – 50° to + 200°), this TESA acrylate label is also entirely engraved with a powerful laser. This is an additional assurance of the efficiency of the inventory process owing to the excellent print quality of the label and its indelible embedded information. Thus customized, it offers the advantage of being forgery-proof.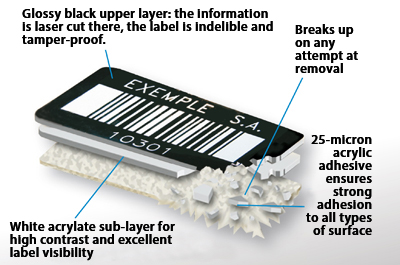 This ultra-destructible color label is composed of different parts that bind together while assembling :
1) The first layer is a 25 microns permanent acrylic adhesive that ensures very powerful adhesion on all type of surfaces.
2) The second part is a white acrylate sublayer (or black depending on the model) for high contrast and excellent visibility.
3) The third is a bright upper layer of your chosen color: the information is laser engraved and the label is thus forgery-proof and indelible.

All these parts of the label disintegrate in case of any attempt at tearing-off. This makes the customized label invalid and allows you to make an accurate inventory.
An ultra-destructible and forgery-proof customized label
Ideal if you have large quantity requirements. Also enhance the brand image of your company by displaying all variable or fixed information on the TESA acrylate customized label (texts, logos, numbering and/or barcodes...) and at a reasonable cost.

Take advantage of our highly discounted bulk rates by estimating your quantities and ordering a higher volume that will help you make great savings.

Our production is also very fast and is done within a week after press proof approval.



The cutting of the customized labels also is by using laser, which means that all forms and dimensions, including round or oval are possible and does not involve additional tool cost. Please contact us for special formats.

Plate costs are to be expected for the first order starting from 1000 labels.

Please note: Barcodes are not possible on customized labels with red backgrounds as they cannot be read by reader lasers which are also red in color.
Label format:
50 x 20 mm Ref. MIS-ACY2-RG/BE/JN
All formats and shapes are available (laser cutting). Please contact us. 
Data sheet
Unity

le rouleau de 1000

Packaging

à l'unité

Guarantee

1 an

Code catalogue

A049 B049 C108 D113 E129 F128

Fixation

Autocollant

Security

Intransférable destructible

Adhésif

Sécurisé

Impression

Gravure

Résistance de l'impression

Optimum / Protégée

Résistance générale

Abrasion

Matière

Synthétique
No customer reviews for the moment.
Format 40x15mm Ref. MIS-ACY2-41
| | |
| --- | --- |
| 1 | 638 € |
| 3 | 511 € |
| 5 | 415 € |
| 10 | 342 € |
Format 50x20mm Ref. MIS-ACY2-52
| | |
| --- | --- |
| 1 | 760 € |
| 3 | 594 € |
| 5 | 492 € |
| 10 | 414 € |
Format 60x25mm Ref. MIS-ACY2-62
| | |
| --- | --- |
| 1 | 976 € |
| 3 | 805 € |
| 5 | 756 € |
| 10 | 642 € |
With this product you may need to use: