Polyester VOID label black print
De

255.00

€ à

804.00

€
Tax excluded
Tax excluded
Livraison : 3 à 6 semaines
Non-reusable
Non transferable
Security control
Reveals evidence of tampering
Read more...
The objective of the VOID black print polyester labels is to help you perform an inventory with reliable barcode labels, that effectively secure your goods, and at a reasonable cost. Carrying out a more accurate inventory will be much simpler, thanks to this barcode label.
Polyester barcode label for complete security of the inventory.
In the three months following the completion of an inventory using standard labels, about 10% of the stock lose their labels because of shifting or removal of labels. Thanks to this VOID customized label you will significantly reduce its error rate since it is completely non-transferable.
The diversity of our customers is indicative of the versatility of these VOID black print polyester labels, you can affix them not only on your tools, machines, industrial components, but also on cars, high-tech products, movable goods and other manufactured goods.
This customized polyester label is very easy to use: once the protection of the adhesive has been removed, all you have to do is stick the barcode label on the equipment that you wish to inventory or seal, the label will fit the contours perfectly. This barcode label is non-transferable, it is impossible to restick it elsewhere.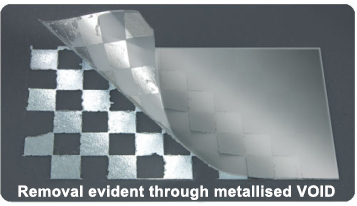 This barcode label not only identifies but also secures your goods. In case of an attempt at tearing-off, the word VOID or a checkerboard pattern appears on the material as well as on the label, this renders the label invalid and unusable thereafter. By using this VOID label as a seal on your equipment, you can easily detect instances of forced opening, and if you use it as an inventory label you can easily identify attempts of tampering, because the removal signs become instantly visible, thus enabling you to immediately replace it. This barcode label is a real deterrent and can be effective as a protection of guarantees.
The barcode label: an effective and quality product
Designed for real situations where the secured inventories require frequent handling, this VOID black print barcode label is resistant to temperatures ranging from -40° to +180°, and also to oil, moisture, conventional cleaning products and UV radiation.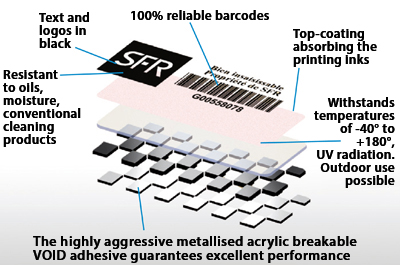 Composed of three layers which bind together while assembling, the finish and result of this barcode label are impeccable:
1) The first part is the VOID adhesive a very strong breakable acrylic adhesive that guarantees an excellent hold. In case of an attempt at tearing-off, it leaves a trace, not only on the label, but also on the product.
2) This adhesive latches on to a flexible surface made of transparent polyester that is resistant to moisture and conventional cleaning products.
3) Finally, the third layer is the surface treatment with satin material that effectively absorbs thermal transfer printing inks that will eventually be embedded on this surface.
It is possible for you to display variable information such as numbering, barcodes, QR Codes and also fixed information: texts and logos (black, without a frame), that will enhance your company's brand image. All our prints are done by thermal transfer, they are much more resistant and of superior quality. The barcodes are also highly reliable and the logos are printed in high resolution with the help of high performance wax/resin bands to give an impeccable product result. (Plate costs are to be expected for the first production).
Customized your VOID polyester labels!
Ideal if you require large quantities, do not hesitate to make an accurate estimate of your barcode label requirements and order a higher volume to make the most of our highly discounted bulk rates, you can thus make great savings. (View our rates by clicking on the tab "Discount Rates", and discover our degressive pricing)
This customized VOID black print polyester label is available in three different sizes: 40 x 15mm, 50 x 20mm and 60 x 25mm. Moreover, delivery is swift and is done in a week after press proof approval, blank material is also in stock.
For any special application and specific use of this barcode label (print example), order your samples by clicking on the "Request sample" button: you can thus carry out your own tests and determine if the product corresponds to your requirements.
Tip: In order to increase the durability of your customized label, protect it with a suitable Transparent Protection!
Data sheet
Unity

le rouleau de 1000

Packaging

Par rouleaux de 1000

Guarantee

1 an

Code catalogue

A002 B002 C006 D006 E122 F122

Fixation

Autocollant

Security

Intransférable VOID

Adhésif

Sécurisé

Impression

Transfert Thermique / Numérique

Résistance de l'impression

Usage courant

Résistance générale

Températures

Matière

Synthétique
No customer reviews for the moment.
Format 40x15mm Ref. MAD-VOID1-BL-NB
| | |
| --- | --- |
| 1 | 678 € |
| 3 | 386 € |
| 5 | 308 € |
| 10 | 255 € |
Format 50x20mm Ref. MAD-VOID2-BL-NB
| | |
| --- | --- |
| 1 | 753 € |
| 3 | 398 € |
| 5 | 358 € |
| 10 | 309 € |
Format 60x25mm Ref. MAD-VOID3-BL-NB
| | |
| --- | --- |
| 1 | 804 € |
| 3 | 482 € |
| 5 | 398 € |
| 10 | 342 € |
With this product you may need to use: