Children's hospital wristband
Tax excluded
Livraison : 3 à 6 semaines
Identification of children in health-care centers
Secure and permanent fastener
Highly resistant
Customizable
Read more...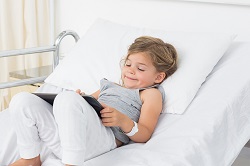 This hospital wristband for children meets special hospital requirements. Ideal for hospitals, clinics, medical institutes and other health-care institutions. This identification wristband helps in the quick and easy identification of patients in hospitals.
This hospital wristband is ideally used to identify children who are patients in hospitals, health-care centers and maternity wards. This patient wristband shows a high level of endurance in all circumstances, is specially adapted to the wrist size of children, and cannot be opened once it is fastened.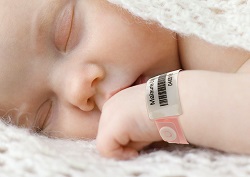 A durable and comfortable hospital wristband that best meets hospital requirements
Thanks to its vinyl composition, the hospital wristband does not cause any discomfort to the patient even during treatment. Impermeable, tear-proof and resistant to cleaning products and solvents, this medical identification wristband for childrenstays intact and is long lasting.
Single use plastic snap fastener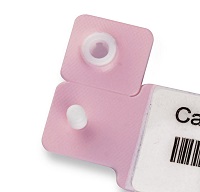 The fastening system consists of a snap button that prevents the person from removing the hospital identification wristband once it is fastened. This helps the healthcare provider to quickly identify a patient in the hospital or the maternity ward.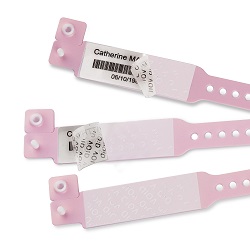 customizable vinyl hospital wristband
You can now print tamperproof VOID labels on your own by using a thermal transfer printer that allows you to enter all the necessary information.
These VOID labels act as an enhanced security system as they discourage the person wearing the wristband from removing the label, as the wearer of the writband cannot remove the label without exposing the word VOID on the writing panel. Moreover, the VOID label becomes unusable.
You can also note down information directly on the writing panel of the wristband with an indelible pen.
This hospital wristband for children is available in two colors: blue and pink. Other colors are also available for orders starting from 20 boxes. - Contact us.
We also offer the hospital wristband for adults
Data sheet
Unity

les 100 bracelets

Packaging

par paquets de 100

Guarantee

1 an

Code catalogue

C225 D235 E045 F045

Security

Inviolable

Matière

Vinyle

Tenue

Souple

Dimensions

18x165mm

Closing

A clip sécurisé

Panneau d'écriture

55x18mm
No customer reviews for the moment.
With this product you may need to use: