3M Laserlab Blank White Polyester A4 Laser Printing Asset Label
De

144.00

€ à

416.00

€
Tax excluded
Tax excluded
Livraison : 3 à 6 semaines
Ultra-resistant
Strong adhesive
Exceptional holding strength
For all black and white laser printers
Read more...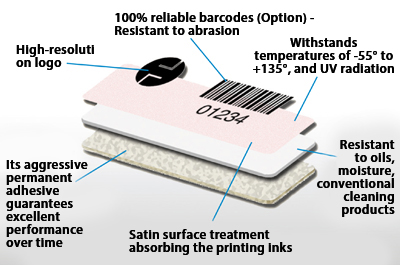 This is a high-tech 3M white polyester label for laser printers with unmatched performance that is better than standard polyester labels available in the market: high performance top layer bonding of the laser inks (print is resistant to scratches, abrasions, chemical products...).
This 3M laser printable label is equipped with a thick, high performance acrylic adhesive for excellent and durable adhesive strength.
A polyester laser label that is resistant to difficult conditions

The polyester laser label is particularly good at withstanding extreme temperatures (-55° to +155°, freezing, autoclave/sterilization), humidity, oils, solvents, cleaning products and to the harshest environment, thanks to its superior quality acrylic adhesive.
A customized ultra-resistant label
Also optional on this laser label : to pre-print your fixed information in 1 or 2 colors please refer to our product Color Pre-printing for Laserlab; in fact, you have the possibility of creating your own barcode label that will facilitate your inventories, for example. In fact, enhance the brand image of your company by displaying your logo in color. It certifies the ownership of the labeled equipment. You will thus have a very high quality customized polyester label owing to its fine print quality and compliance with the colors of your graphic charter. All the Pantone colors are possible. Plate costs are charged for logos or graphics only for the first production(the announced delivery time is effective only after press proof approval).

*Most black and white laser printers, certain color laser printers, but not inkjet printers.
Label formats: 
| References | Format | Number of labels per sheet | Number of sheets per box | Number of labels per box |
| --- | --- | --- | --- | --- |
|  LSL-POLY1-BL |  19 x 38 mm |  65 |  16 | 1040 |
|  LSL-POLY-BL |  25 x 51 mm |  30 |  34 | 1020 |
|  LSL-POLY3-BL |  25 x 64 mm |  30 |  34 | 1020 |
Other formats (A4 complete, A5...), please contact us. 
Data sheet
Unity

la boite

Packaging

la boite

Guarantee

1 an

Code catalogue

A021 B021 C001 D001 E101 F101

Fixation

Autocollant

Security

Aucune

Adhésif

Fort

Impression

Laser

Résistance de l'impression

Usage courant

Matière

Synthétique
No customer reviews for the moment.
Format 19x38mm Ref. LSL-POLY1-BL
| | |
| --- | --- |
| 1 | 180 € |
| 5 | 162 € |
| 10 | 144 € |
Format 25x64mm Ref. LSL-POLY3-BL
| | |
| --- | --- |
| 1 | 382 € |
| 5 | 344 € |
| 10 | 307 € |
Format 25x51mm Ref. LSL-POLY-BL
| | |
| --- | --- |
| 1 | 416 € |
| 5 | 375 € |
| 10 | 335 € |
With this product you may need to use: