Aluminium Labels
In order to identify your assets under the most difficult conditions. Opt for our aluminium asset tags, also known as metal barcode labels.
These aluminium asset tags are made of an ultra powerful sided tape which provides excellent resistance on all types of displays. They are almost impossible to tear off with bare hands. This ensures a high level of security.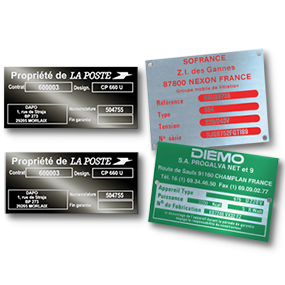 Strengthen your brand image in a sustainable and aesthetic way with our 3M aluminium asset tags range
You have your company's logo in solid-dyed metal (anodising) on each of the labels entirely in your colours. All your variable information such as sequential numbers, barcodes, etc. are laser engraved in depth into the mass, making them indelible and unalterable. Designed in such a way, these asset tags offer excellent safety for your property and are resistant to abrasion, major chemicals, extreme temperatures and UV.
Personalize your metal barcode labels yourself with our cold stamping marking kit
In addition to our metal barcode labels, SBE also offers you a complete kit for cold heading marking and a numbered for cold heading. You can then customize your labels yourself. It is an economic investment because it does not require any additional costs. They are durable due to the robustness of the components used and also they are easy to use.