Security Label - Partial Transfer.
De

97.00

€ à

370.00

€
Tax excluded
Tax excluded
Livraison : 3 à 6 semaines
Secure all your transport of funds

Leaves an evident tampering message in case of removal

Ideal as an indicator of guarantee.
Read more...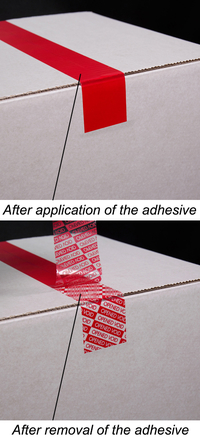 This adhesive roll has an antitheft indicator in the form of a security label which helps to secure all your plastic packages and metallic boxes. It is particularly used in banks, casinos and shops.

Offer more security to the transfer of your assets and cash with this reliable and adhesive seal.
Using a high performance acrylic adhesive system with partial transfer, this high security seal leaves a small amount of residue on the concerned surface. In case of tampering of the label, a permanent message will appear on the label surface and the base simultaneously.
Very effective on most plastic surfaces, these labels are ideal for casinos, banks and courier companies, especially for transporting funds.

An effective deterrent against tampering of packages and confidential documents.
This adhesive seal roll mainly helps to:
Seal your paper bags for fund transfers
Attach security labels as guarantee
Protect and seal your containers of expensive raw materials as well as your storage cabinets
Ensure seals for evidence in criminal investigation
Prepare for visits by important personalities (for example: seals for bottles and meal trays in lodges for example)
Ensure the sealing of bags and sachets with limited access
Seal your IT systems in order to avoid data theft
Seal paper bags carrying CDs and DVDs to ensure that the content is not visible
Secure products in the design and development phase and ensure their confidentiality
Protect your dangerous, harmful, or fragile components.
Prevent the exchange of merchandise being transported
Design the packaging of products
From 500 labels (i.e. 1 roll), it is possible to save as well as customize your seal.
Customization of the surface of the security adhesive seal
You can customize your labels with your brand image, by modifying the following items:
Fixed displays: logo, text, slogans, etc.
Variable: barcodes, numbering, QR-codes, etc.
Color: Yellow, gray, blue, green, violet, etc.
Format: 9 standard formats in mm
This customization provides a significantly higher level of security and enhances the brand image of your company. You can thus impart a truly personal touch to your seals. Printed in black, the printing is done using thermal transfer, a technique ensuring a perfect finish to the product.
The processing fees are charged only for the first production. (The delivery time mentioned is effective after the press proof approval)


Label size
From 50 rolls, the label format can be defined according to your choice, just like the packaging of rolls.
Production costs of €250 excluding tax. Contact us for a quote
In case of routing a standard parcel, the label should remain intact till delivery. If any tampering has taken place on the package, an "OPENED VOID" message will appear on the tampered label and on the surface, thus immediately indicating that the parcel was opened.
For optimal use, the safety adhesive must be applied with sufficient pressure on a flat, dry surface, free of dust and grease. It is also advisable to avoid touching the adhesive surface in order to preserve its effectiveness.
Data sheet
Unity

par rouleau de 500

Packaging

par rouleau de 500

Guarantee

1 an

Code catalogue

C113 D118 E810 F810

Adhésif

Acrylique haute performance

Matière

Polyester

Colour

ROUGE/BLEU

Format

40x85 mm

Colle

Transfert partiel

Résistance aux températures

de -20°C à +80°C

Diamètre du mandrin

76mm

Diamètre total du rouleau

12,5 cm
No customer reviews for the moment.
Impression Vierge Ref. SAHS-81-RG
| | | |
| --- | --- | --- |
| 1 | 120 € | 135 € |
| 2 | - | - |
| 5 | 106 € | 112 € |
| 10 | 103 € | 103 € |
| 50 | 100 € | 97 € |
Impression Impression noire Ref. SAHS-81-RGP
| | | |
| --- | --- | --- |
| 1 | - | - |
| 2 | 329 € | 370 € |
| 5 | 288 € | 312 € |
| 10 | 288 € | 304 € |
| 50 | 280 € | 280 € |
With this product you may need to use: