Void Labels
The authenticity of products is a key issue for companies facing problems of fraud and counterfeiting. SBE has selected this range of VOID polyester labels for you. These VOID anti-fraud labels guarantee the originality and authenticity of your products.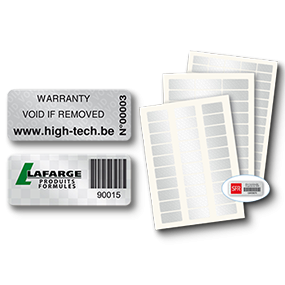 These silver VOID labels secure your most sensitive products
Thanks to the tamper proof adhesive, during any attempt to tear off the label, the latter allows a VOID security pattern to appear on both the label and the product support, it is an eyewitness that immediately makes the tearing visible. It cannot be glued again elsewhere, so they are not transferable. These labels can be used as seals to protect, most often, safes, drug packages, and envelopes containing confidential documents or computer parts.
They also protect companies from counterfeiting
These VOID polyester labels are very difficult to reproduce or imitate, they are the effective and economical solution for companies to differentiate between real products and counterfeits. You can also have your own custom VOID labels customized with your own text, logo, barcode and colour, which enhances the authenticity of your products.