Mother-child hospital wristband
Tax excluded
Livraison : 1 à 3 semaines
Non-transferable fastening system
Sturdy
Safe to use
Customizable
Read more...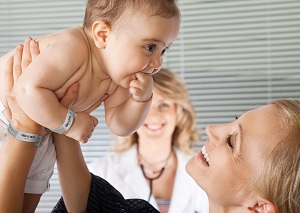 The mother-child hospital wristbandensures complete security of patients during their stay in the maternity ward. The consecutive numbering is identical on each of the two wristbands (one for the mother, the other for the infant) thus eliminating all likelihood of confusion. Patient identification ensuressecurity and traceability that are of great importance in the hospital center. Non-transferable, this monitoring medical wristband is highly resistant to water, soap and cleaning products.
A non-transferable attachment system
The fastening system of this hospital identification wristband ensures unmatched security. This wristband can be fastened at the wrist through a simple snap button that is impossible to remove once it is clipped. This security measure ensures that the wristband cannot be opened unless the person cuts it or breaks it, thus making it unusable.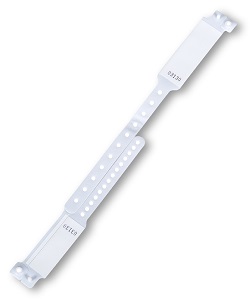 A sturdy hospital security wristband
This vinyl wristband has a double layer that makes it resistant to all harsh external conditions. The mother-child hospital wristband is thus resistant to humidity, water and common cleaning products. Moreover, thanks to its vinyl composition, the hospital wristband retains its shape.
Safe to use
The adult/child security wristband has been specifically designed to make it safe to use for adults as well as for children/infants. There is minimum risk of discomfort.
A customizable identification wristband
The identification wristband with a writing panel lets you manually write the necessary information with the help of an indelible pen, for example, the patient's name.
We also give you the option of sticking VOID security labels on the hospital wristbands. These labels can be printed using the Sato CG2 printer. Since the label is tamper-resistant, this second method is a more effective way of noting down information that will help to identify the patient, thus enhancing security. Any attempt to remove the label is discouraged thanks to the word "VOID" that remains on the writing panel. This proves to be an additional security measure that complements the security system mentioned above.
It is usually available in white, but other colors are also available for orders starting from 20 boxes. Contact us.
Data sheet
Unity

les 100 bracelets

Packaging

par paquets de 100

Guarantee

1 an

Code catalogue

D236 E046 F046

Security

Inviolable

Impression

Sérigraphie

Résistance de l'impression

Excellente

Matière

Vinyle

Tenue

Souple

Colour

Gris

Dimensions

Adulte: 240x25mm Enfant: 170x20mm

Closing

A clip

Panneau d'écriture

Adulte: 70x25mm Enfant: 50x20mm
No customer reviews for the moment.
With this product you may need to use: