Heavy Duty Labels
Identify your equipment in a durable and secure way with our ultra adhesive labels.
Your equipment is handled, cleaned or exposed to a difficult and aggressive environment? You want your custom asset tags to be ultra-resistant? SBE Direct offers you its ultra-powerful 3M strong adhesive labels protected and resistant to all aggressions such as chemicals and extreme temperatures thanks to its thick polyester protection which permanently protects your information on the label. Our thick adhesive labels also feature an ultra-powerful double-layer acrylic adhesive that makes it impossible to tear off by hand and gives it excellent resistance to all types of surfaces.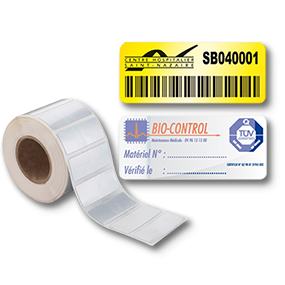 The advantages for your purchases of identification and traceability ultra adhesive labels
A true specialist in security and identification solutions for assets and people, SBE Direct offers companies many advantages when purchasing identification plates or labels:
You can also complete your purchases with our non-transferable seal labels to secure all types of media (letters, boxes, mobile equipment, etc.).
Would you like to know more about our range of professional labels and traceability solutions? Contact us!